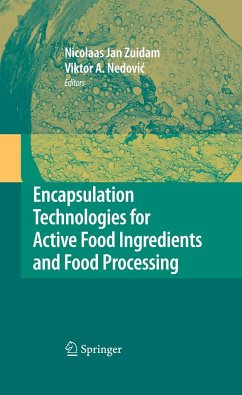 Andere Kunden interessierten sich
auch
für


This book provides a detailed overview of the encapsulation technologies available for use in food products, food processing, and food production. The book aims to inform those who work in academia or R&D about both the delivery of food compounds via encapsulation and food processing using immobilized cells or enzymes. The structure of the book is according to the use of encapsulates for a specific application. Emphasis is placed on strategy, since encapsulation technologies may change. Most chapters include application possibilities of the encapsulation technologies in specific food products or processes.

The first part of the book reviews general technologies, food-grade materials, and characterization methods for encapsulates.

The second part discusses encapsulates of active ingredients (e.g., aroma, fish oil, minerals, vitamins, peptides, proteins, probiotics) for specific food applications.

The last part describes immobilization technologies of cells and enzymes for use within food fermentation processes (e.g., beer, wine, dairy, meat), and food production (e.g., sugar conversion, production of organic acids or amino acids, hydrolysis of triglycerides).

Edited by two leading experts in the field, Encapsulation Technologies for Food Active Ingredients and Food Processing will be a valuable reference source for those working in the academia or food industry. The editors work in both industry or academia, and they have brought together in this book contributions from both fields.