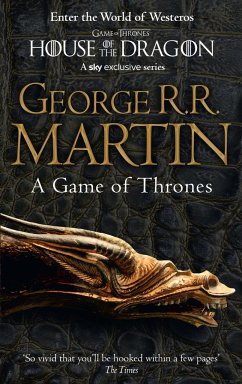 A Song of Ice and Fire 01. A Game of Thrones
Broschiertes Buch
Sprache: Englisch
versandkostenfrei

innerhalb Deutschlands

Bisher EUR 11,95*

EUR 9,95

Sofort lieferbar

Alle Preise inkl. MwSt.
*Früherer Preis

-17 %
Andere Kunden interessierten sich auch für
A Song of Ice and Fire 01. A Game of Thrones
The first volume in the "A Song of Ice and Fire" trilogy which tells of the treachery, greed and war threatening the Seven Kingdoms south of the Wall. In a world scarred by battle and catastrophe, it describes the deeds of a people locked in conflict and the legacy they will leave their children.
Produktinformation
---
Verlag: Harpercollins Uk
2011
Ausstattung/Bilder: 2003. 864 p. 177 mm
Seitenzahl: 864
A Song of Ice and Fire Vol.1
Englisch
Abmessung: 177mm x 111mm x 45mm
Gewicht: 435g
ISBN-13: 9780006479888
ISBN-10: 000647988X
Best.Nr.: 21431549
"The major fantasy of the decade . . . compulsively readable."- Denver Post

"We have been invited to a grand feast and pageant: George R.R. Martin has unveiled for us an intensely realized, romantic but realistic world."- Chicago Sun-Times

"A Best Book of 1996: Martin makes a triumphant return to high fantasy . . . [with] superbly developed characters, accomplished prose, and sheer bloodymindedness."- Publishers Weekly , starred review

"A splendid saga . . . . Inventive and intricately plotted."- BookPage

"Magic . . . George R.R.Martin's first fantasy epic [is set] well above the norms of the genre."- Locus

"Such a splendid tale and such a fantasticorical! I read my eyes out and couldn't stop 'til I finished and it was dawn."-Anne McCaffrey
George R. R. Martin, geb. 1948 in Bayonne/New Jersey, veröffentlichte seine ersten Kurzgeschichten im Jahr 1971 und gelangte damit in der Science-Fiction-Szene zu frühem Ruhm. Gleich mehrfach wurde ihm der renommierte Hugo Award verliehen. Danach arbeitete er in der Produktion von Fernsehserien, etwa als Dramaturg der TV-Serie 'Twilight Zone', ehe er 1996 mit einem Sensationserfolg auf die Bühne der Fantasy-Literatur zurückkehrte: Sein mehrteiliges Epos 'Das Lied von Eis und Feuer' wird einhellig als Meisterwerk gepriesen. George R. R. Martin lebt in Santa Fe, New Mexico.
The morning had dawned clear and cold, with a crispness that hinted at the end of summer. They set forth at daybreak to see a man beheaded, twenty in all, and Bran rode among them, nervous with excitement. This was the first time he had been deemed old enough to go with his lord father and his brothers to see the king's justice done. It was the ninth year of summer, and the seventh of Bran's life.

The man had been taken outside a small holdfast in the hills. Robb thought he was a wildling, his sword sworn to Mance Rayder, the King-beyond-the-Wall. It made Bran's skin prickle to think of it. He remembered the hearth tales Old Nan told them. The wildlings were cruel men, she said, slavers and slayers and thieves. They consorted with giants and ghouls, stole girl children in the dead of night, and drank blood from polished horns. And their women lay with the Others in the Long Night to sire terrible half-human children.

But the man they found bound hand and foot to the holdfast wall awaiting the king's justice was old and scrawny, not much taller than Robb. He had lost both ears and a finger to frostbite, and he dressed all in black, the same as a brother of the Night's Watch, except that his furs were ragged and greasy.

The breath of man and horse mingled, steaming, in the cold morning air as his lord father had the man cut down from the wall and dragged before them. Robb and Jon sat tall and still on their horses, with Bran between them on his pony, trying to seem older than seven, trying to pretend that he'd seen all this before. A faint wind blew through the holdfast gate. Over their heads flapped the banner of the Starks of Winterfell: a grey direwolf racing across an ice-white field.

Bran's father sat solemnly on his horse, long brown hair stirring in the wind. His closely trimmed beard was shot with white, making him look older than his thirty-five years. He had a grim cast to his grey eyes this day, and he seemed not at all the man who would sit before the fire in the evening and talk softly of the age of heroes and the children of the forest. He had taken off Father's face, Bran thought, and donned the face of Lord Stark of Winterfell.

There were questions asked and answers given there in the chill of morning, but afterward Bran could not recall much of what had been said. Finally his lord father gave a command, and two of his guardsmen dragged the ragged man to the ironwood stump in the center of the square. They forced his head down onto the hard black wood. Lord Eddard Stark dismounted and his ward Theon Greyjoy brought forth the sword. "Ice," that sword was called. It was as wide across as a man's hand, and taller even than Robb. The blade was Valyrian steel, spell-forged and dark as smoke. Nothing held an edge like Valyrian steel.

His father peeled off his gloves and handed them to Jory Cassel, the captain of his household guard. He took hold of Ice with both hands and said, "In the name of Robert of the House Baratheon, the First of his Name, King of the Andals and the Rhoynar and the First Men, Lord of the Seven Kingdoms and Protector of the Realm, by the word of Eddard of the House Stark, Lord of Winterfell and Warden of the North, I do sentence you to die." He lifted the great sword high above his head.

Bran's bastard brother Jon Snow moved closer. "Keep the pony well in hand," he whispered. "And don't look away. Father will know if you do."

Bran kept his pony well in hand, and did not look away.

His father took off the man's head with a single sure stroke. Blood sprayed out across the snow, as red as summerwine. One of the horses reared and had to be restrained to keep from bolting. Bran could not take his eyes off the blood. The snows around the stump drank it eagerly, reddening as he watched.

The head bounced off a thick root and rolled. It came up near Greyjoy's feet. Theon was a lean, dark youth of ninete
Kundenbewertungen zu "
A Song of Ice and Fire 01. A Game of Thrones

"

2 Kundenbewertungen

(Durchschnitt )
| | |
| --- | --- |
| | Schreiben Sie eine Kundenbewertung zu "A Song of Ice and Fire 01. A Game of Thrones" und Gewinnen Sie mit etwas Glück einen 15 EUR buecher.de-Gutschein |
---
Bewertung von Ria am 30.07.2010
Eines der besten Buecher das ich jeh gelesen habe! Die Geschichte ist aussergewoehnlich spannend und originell.
GRRM glaenzt besonders durch sein Auge fuers Detail, das die Geschichte fuer den Leser sehr bildlich und lebhaft macht. Durch eine Landkarte zu Beginn des Buches und eine umfassende Auflistung der mitwirkenden Familien und Charaktere im Anhang kann man auch nach laengerer Lesepause gut wieder einsteigen bzw. sich die Geschichte um so lebhafter vorstellen. Alle Charaktere sind sehr ausgekluegelt was den Leser besonders in die Geschichte versetzt.
Fehlerhafterweise habe ich zu erst die deutsche Version gelesen, diese hat sich aber schnell als totaller Flopp enttarnt. Deswegen rate ich jedem es auf Englisch zu lesen, es ist mit einem normalen Schulenglisch sehr gut zu verstehen.

Diese Bewertung bezieht sich auf eine andere Ausgabe: Broschiertes Buch
---
Bewertung von M. Rogawski aus Bonn am 29.05.2000
Extrem spannend!
Die Erzählung aus der Sicht verschiedener handelnder Personen hat mir sehr
gut gefallen.
Leider sind erst 2 Bände erschienen.
Ich sehne schon den 3. herbei.

Diese Bewertung bezieht sich auf eine andere Ausgabe: Broschiertes Buch
---
Sie kennen "A Song of Ice and Fire 01. A Game of Thrones" von George R. R. Martin ?

3 Marktplatz-Angebote für "A Song of Ice and Fire 01. A Game of Thrones" ab EUR 3,25