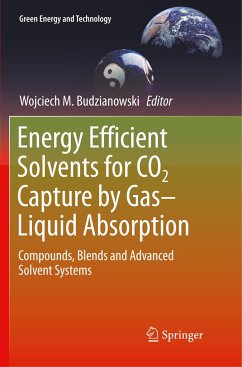 Andere Kunden interessierten sich
auch
für

Focusing on energy efficient solvents with minimal adverse environmental impact, the contributions included analyse the major technological advantages, as well as research and development challenges of promising solvents and solvent systems in various sustainable CO2 capture applications.
It provides a valuable source of information for undergraduate and postgraduate students, as well as for chemical engineers and energy specialists.
Produktdetails
Green Energy and Technology
Artikelnr. des Verlages: 978-3-319-83694-2
Softcover reprint of the original 1st ed. 2017
Seitenzahl: 288
Erscheinungstermin: 5. Juli 2018
Englisch
Abmessung: 235mm x 155mm x 15mm
Gewicht: 444g
ISBN-13: 9783319836942
ISBN-10: 3319836943
Artikelnr.: 53582475
Introduction to Carbon Dioxide Capture by Gas-liquid Absorption in Nature, Industry, and Perspectives for the Energy Sector and Beyond.- Assessment of Thermodynamic Efficiency of Carbon Dioxide Separation in Capture Plants by Using Gas-liquid Absorption.- Process Implications of CO2 Capture Solvent Selection.- Useful Mechanisms, Energy Efficiency Benefits, and Challenges of Emerging Innovative Advanced Solvent Based Capture Processes.- Phase Change Solvents for CO2 Capture Applications.- Aqueous Amino Acid Salts and Their Blends as Efficient Absorbents for CO2 Capture.- Ionic Liquids: Advanced Solvents for CO2 Capture.- Amine-blends Screening and Characterization for CO2 Post-combustion Capture.- Post-combustion Carbon Dioxide Capture with Aqueous (Piperazine + 2-amino-2methyl-1-propanol) Blended Solvent: Performance Evaluation and Analysis of Energy Requirements.- Energy Efficient Absorbents for Industry Promising Carbon Dioxide Capture.- The Absorption Kinetics of CO2 into Ionic Liquid- CO2 Binding Organic Liquid and Hybrid Solvents.- Solubility of Carbon Dioxide in Aqueous Solutions of Linear Polyamines.