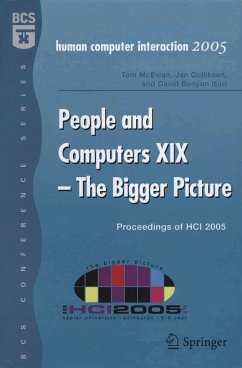 Andere Kunden interessierten sich
auch
für
---
Dieser Download kann aus rechtlichen Gründen nur mit Rechnungsadresse in A, B, BG, CY, CZ, D, DK, EW, E, FIN, F, GR, HR, H, IRL, I, LT, L, LR, M, NL, PL, P, R, S, SLO, SK ausgeliefert werden.
Produktdetails
Verlag: Springer-Verlag GmbH
Erscheinungstermin: 20. Dezember 2007
Englisch
ISBN-13: 9781846282492
Artikelnr.: 37356933
H - HCI at the Human Scale.- "Looking At the Computer but Doing It On Land": Children's Interactions in a Tangible Programming Space.- The Usability of Digital Ink Technologies for Children and Teenagers.- PROTEUS: Artefact-driven Constructionist Assessment within Tablet PC-based Low-fidelity Prototyping.- The Reader Creates a Personal Meaning: A Comparative Study of Scenarios and Human-centred Stories.- What Difference Do Guidelines Make? An Observational Study of Online-questionnaire Design Guidelines Put to Practical Use.- Designing Interactive Systems in Context: From Prototype to Deployment.- Using Context Awareness to Enhance Visitor Engagement in a Gallery Space.- Engagement with an Interactive Museum Exhibit.- User Needs in e-Government: Conducting Policy Analysis with Models-on-the-Web.- Fit for Purpose Evaluation: The Case of a Public Information Kiosk for the Socially Disadvantaged.- A Visuo-Biometric Authentication Mechanism for Older Users.- C - HCI in the Greater Cultural Context.- A Computer Science HCI Course.- Use and Usefulness of HCI Methods: Results from an Exploratory Study among Nordic HCI Practitioners.- Building Usability in India: Reflections from the Indo-European Systems Usability Partnership.- Visualizing the Evolution of HCI.- "I thought it was terrible and everyone else loved it" - A New Perspective for Effective Recommender System Design.- Rich Media, Poor Judgement? A Study of Media Effects on Users' Trust in Expertise.- Cultural Representations in Web Design: Differences in Emotions and Values.- Interaction Design for Countries with a Traditional Culture: A Comparative Study of Income Levels and Cultural Values.- Researching Culture and Usability - A Conceptual Model of Usability.- I - HCI Down at the Interface.- Distinguishing Vibrotactile Effects with Tactile Mouse and Trackball.- HyperGrid - Accessing Complex Information Spaces.- Mixed Interaction Space - Expanding the Interaction Space with Mobile Devices.- Static/Animated Diagrams and their Effect on Students Perceptions of Conceptual Understanding in Computer Aided Learning (CAL) Environments.- Media Co-authoring Practices in Responsive Physical Environments.- Cognitive Model Working Alongside the User.- Revisiting Web Design Guidelines by Exploring Users' Expectations, Preferences and Visual Search Behaviour.- Comparing Automatic and Manual Zooming Methods for Acquiring Off-screen Targets.- Forward and Backward Speech Skimming with the Elastic Audio Slider.- Design Patterns for Auditory Displays.- Closing Keynote of HCI2005: The Bigger Picture.- Grand Challenges in HCI: the Quest for Theory-led Design.