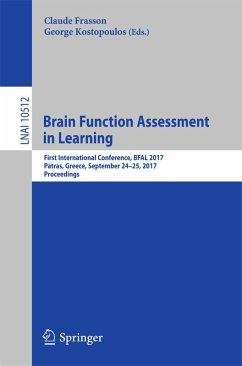 Andere Kunden interessierten sich
auch
für

The 16 revised full papers presented together with 2 invited talks and 6 posters were carefully selected from 28 submissions. The BFAL conference aims to regroup research in multidisciplinary domains such as neuroscience, health, computer science, artificial intelligence, human-computer interaction, education and social interaction on the theme of Brain Function Assessment in Learning.


Produktdetails
Lecture Notes in Computer Science .10512
Artikelnr. des Verlages: 978-3-319-67614-2
1st ed. 2017
Seitenzahl: 232
Erscheinungstermin: 7. September 2017
Englisch
Abmessung: 235mm x 155mm x 12mm
Gewicht: 359g
ISBN-13: 9783319676142
ISBN-10: 3319676148
Artikelnr.: 48882498
Affective Learning: Principles, Technologies, Practice.- Understanding How Learning Takes Place with Neuroscience and Applying the Results to Education.- Intelligent Control and Cognitive Control: Issues and Challenges.- Tracing and Enhancing Serendipitous Learning with Viewpoints.- Online Brain Training Programs for Healthy Older Individuals.- Evaluating Active Learning Methods for Bankruptcy Prediction.- A Prognosis of Junior High School Students' Performance Based on Active Learning Methods.- The Effects of Working Memory Training on Cognitive Flexibility in Man.- Computers Cannot Learn the Way Humans Do -- Partly, Because They Do Not Sleep.- Modeling Animal Brains with Evolutive Cognitive Schemas.- Neural Knowledge Tracing.- Game Experience and Brain Based Assessment of Motivational Goal Orientations in Video Games.- Real-time Brain Assessment for Adaptive Virtual Reality Game: A Neurofeedback Approach.- Event-Related Brain Potentials from Pictures Relevant to Science Education.- Real-time Spindles Detection for Acoustic Neurofeedback.- Examining the Efficiency of Feedback Types in a Virtual Reality Educational Environment for Learning Search Algorithms.- Virtual Sophrologist: A Virtual Reality Neurofeedback Relaxation Training System.- Different Frequency-Dependent Properties Between Dorsal and Ventral Hippocampal Synapses.- Using Electroencephalograms to Interpret and Monitor the Emotions.- The Long Lasting Effect of Neonatal Handling on mGluR5 and Arc mRNA Levels in Medial Prefrontal Cortex of Rat Brain.- Escalating Low-dose Treatment in Adolescence Induces Spatial Memory Deficits in Adulthood.- Performance Comparisons of Classifiers Applied to Electroencephalogram Signals.- Quadcopter Control Based on Electroencephalogram Headset and Hybrid Fuzzy Classifier.- Support Vector Machine Approaches with Features Selection to Detect Cognitive States from Brain Images.- Support Vector Machine Optimized by Artificial Bee Colony Applied to EEG Pattern Recognition.