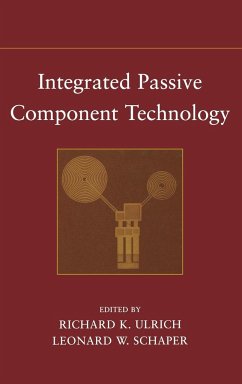 Andere Kunden interessierten sich
auch
für
---
This is a thorough survey of the state-of-the-art in Integrated Passive Component Technology. * Describes the processes available for creating integrated passives, measuring their properties, and applying them. * Brings reader up to date in a fast-moving technology. * Enables reader to implement the technology into a manufacturing environment. * Covers existing and potential technologies for various substrate systems such as FR4, ceramic, and HDI. * Describes applications favorable to integrated passives and the economic tradeoffs associated with their implementation.
Produktdetails
Verlag: Wiley & Sons; Wiley-Ieee Press
Seitenzahl: 402
Erscheinungstermin: 16. Juni 2003
Englisch
Abmessung: 240mm x 161mm x 26mm
Gewicht: 685g
ISBN-13: 9780471244318
ISBN-10: 0471244317
Artikelnr.: 11429397
Introduction.Characteristics and Performance of Planar Resistors.Integrated Resistor Materials and Processes.DIelectric Materials for Integrated Capacitors.Size and Configuration for Integrated Capacitors.Processing Integrated Capacitors.Defect and Yield Issues.Electrical Performance of Integrated Capacitors.Decoupling.Integrated Inductors.Modeling Integrated Resistors and inductors for Microwave Applications.Other Applications and Integration Technologies.The Economic of Embedded Passives.The Future of Integrated Passives.
"...an interesting and useful book; I wholeheartedly recommend it."(Circuit World, Vol.30, No. 2003)
"...a comprehensive look at the reasons and current challenges...[of integrating] passive devices into board or IC...just the right dose of the math to explain the physics and theory behind the technology." ( IEEE Circuits & Devices Magazine , Jan/Feb 2005)
"...an interesting and useful book; I wholeheartedly recommend it."(Circuit World, Vol.30, No. 2003)