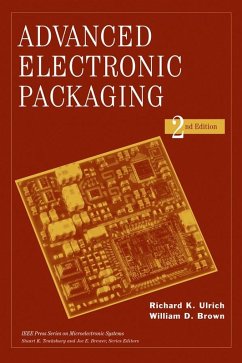 Andere Kunden interessierten sich
auch
für
---
Advanced Electronic Packaging, Second Edition reflects the changes in the electronic packaging industry, as well as feedback from students, engineers, and educators since the publication of the First Edition in 1999. Like the First Edition, each chapter is authored by one or more acknowledged experts and then carefully edited to ensure a consistent level of quality and approach throughout. Readers familiar with the First Edition will note several key changes. For example, organic and ceramic substrates are now covered in separate chapters. There are new chapters on passive devices, RF and microwave packaging, electronic package assembly, and cost evaluation and assembly. In addition, readers have access to the latest information and findings in such topics as: * Packaging materials and applications * Modeling and simulations * Analytical techniques for materials * MEMS packaging * Fabrication technologies and package design * Reliability * Electrical, mechanical, and thermal considerations * Three-dimensional packaging All the hallmarks of the First Edition, which became an industry standard and a popular graduate-level textbook, have been retained. Examples illustrate real-world applications, which are then reinforced by the extensive use of exercises to enable readers themselves to place their newfound knowledge into practice. In addition, references are provided that guide readers to more in-depth information and primary resources in specialized topics. Fully updated, this comprehensive reference remains the preeminent graduate-level textbook in its field as well as an essential reference for engineers and scientists.
Produktdetails
IEEE Press Series on Microelectronic Systems
Verlag: Wiley & Sons
2. Aufl. 2006.
Seitenzahl: 840
Erscheinungstermin: März 2006
Englisch
Abmessung: 262mm x 186mm x 46mm
Gewicht: 1550g
ISBN-13: 9780471466093
ISBN-10: 0471466093
Artikelnr.: 20781493
Chapter 1: Introduction and overview of microelectronic packaging.Chapter 2: Materials for microelectronic packaging.Chapter 3: Processing technologies.Chapter 4: Organic printed circuit board materials and processes.Chapter 5: Ceramic substrates.Chapter 6: Electrical considerations, modeling, and simulation.Chapter 7: Thermal considerations.Chapter 8: Mechanical design considerations.Chapter 9: Discrete and embedded passive devices.Chapter 10: Electronic package assembly.Chapter 11: Design considerations.Chapter 12: Radio frequency and microwave packaging.Chapter 13: Power electronics packaging.Chapter 14: Multichip and three-dimensional packaging.Chapter 15: Packaging of MEMS and MOEMS: challenges and a case study.Chapter 16: Reliability considerations.Chapter 17: Cost evaluation and analysis.Chapter 18: Analytical techniques for materials characterization.
"...offers a broad perspective on electronic packaging." (Advanced Packaging Online, August 11, 2006)"...an extremely thorough engineering textbook and an invaluable reference tool...get ready for some serious reading that will pay off." (Chip Scale Review, July 2006)"...useful to not only students but also to both new and experienced engineers working in areas related to semiconductor and electronic packaging technologies." (CircuiTree, May 1, 2006)
"...a very nice reference." (IEEE Circuits & Devices Magazine, November/December 2006)

"...offers a broad perspective on electronic packaging." (Advanced Packaging Online, August 11, 2006)

"...an extremely thorough engineering textbook and an invaluable reference tool...get ready for some serious reading that will pay off." (Chip Scale Review, July 2006)

"...useful to not only students but also to both new and experienced engineers working in areas related to semiconductor and electronic packaging technologies." (CircuiTree, May 1, 2006)