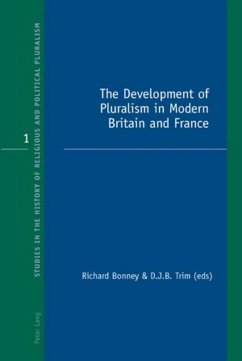 Andere Kunden interessierten sich
auch
für

By virtue of their proximity and frequent historical interaction, Britain and France lend themselves to comparative study. The studies in this volume collectively demonstrate that the affairs of religious minorities in these two countries were not only of concern to themselves and their national established churches. Rather, over a long-term period, they had a sustained impact on many other issues.
All chapters illustrate the problematic shift from a persecutory to a pluralistic mentality.
Produktdetails
Studies in the History of Religious and Political Pluralism 1
Artikelnr. des Verlages: 10571
Seitenzahl: 368
Erscheinungstermin: 16. Juli 2007
Englisch
Abmessung: 225mm x 150mm x 20mm
Gewicht: 530g
ISBN-13: 9783039105717
ISBN-10: 303910571X
Artikelnr.: 24479271
Contents: Richard Bonney/D.J.B. Trim: Introduction - Gwynne Lewis: The State, Calvinism, and the Evolution of Political and Religious Pluralism in France, c.1550s-1848 - William Lamont: False Witnesses? The English Civil War and English Ecumenism - Bryan W. Ball: 'Through Darkness to Light.' Post-Restoration Sabbatarianism: Survival and Continuity - Robin Briggs: A Moving Target: Jansenists and their Enemies in France - Randolph Vigne: Richard Hill and the Saving of Liberty of Conscience for the Vaudois - Terrie Dopp Aamodt: 'Out of thee, O England, shall a bright star arise': Mother Ann Lee and the English Origins of the Shakers - Penny Mahon: Domesticating Discourses: Woman as Writer in the Early Nineteenth-century Peace Society - John Wolffe: British Protestants and Europe, 1820-60: Some Perceptions and Influences - James C. Deming: Martyrs for Modernity: The Three Hundredth Jubilee of the French Reformation and the Catholic-Protestant Debate on the Huguenot Martyrs - Aubrey Newman: The Jewish Presence in Britain and France, 1650-1914 - Rik Torfs: The Present State of Religious Minorities in Europe - Richard Bonney: British and French Muslims: Between Assimilation and Segregation?