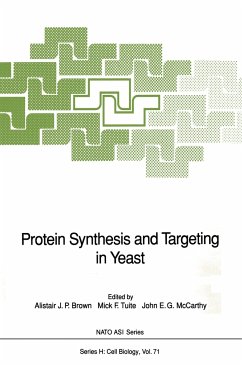 Andere Kunden interessierten sich
auch
für

Saccharomyces cerevisiae and multicellular organisms at the
molecular level, and the powerful range of experimental
tools available for this yeast, S. cerevisiae is proving an
ideal model system for studies on protein synthesis and
targeting.
The topics covered are: - Messenger RNA stability and
translation.- The translation apparatus. - Translational
control andfidelity. - Protein targeting to the
mitochondrion. - Nuclear transport. - The secretory pathway.
- Protein folding and degradation. - Protein splicing.
Modern and often novel molecular, genetic and biochemical
approaches as well as most recent data are provided. The
reader will gain a comprehensive view of the current status
of the field.
Produktdetails
NATO ASI Series H Cell Biology Vol.71
Verlag: Springer, Berlin
Artikelnr. des Verlages: 86005073
Softcover reprint of the original 1st ed. 1993
Erscheinungstermin: 14. April 2014
Englisch
Abmessung: 235mm x 155mm x 23mm
Gewicht: 664g
ISBN-13: 9783642849237
ISBN-10: 3642849237
Artikelnr.: 40734773
Mrna Stability and Translation.- 1: Identification of the cis-acting sequences and trans-acting factors involved in nonsense-mediated mRNA decay.- 2: RNA14 and RNA15, two proteins regulating mRNA stability in Saccharomyces cerevisiae.- 3: Translational control in Saccharomyces cerevisiae studies in vivo and in vitro.- The Ribosome.- 4: Thoughts on the regulation of ribosome synthesis in Saccharomyces cerevisiae.- 5: Regulation of ribosomal protein synthesis in yeasts (Saccharomyces and Kluyveromyces).- 6: The evolution of ribosomal proteins and yeast.- 7: The acidic ribosomal proteins and the control of protein synthesis in yeast.- Translational Fidelity.- 8: SUP35 and SUP45 genes code for ribosome-bound proteins involved in the control of translational fidelity in yeast.- 9: Mutations affecting translational accuracy in yeast.- 10: Dosage-dependent modifiers of psi'-dependent omnipotent suppression in yeast.- 11: Aberrant mRNA decoding by the dimorphic yeast Candida albicans.- Translation Factors.- 12: Effect of initiation factor eIF-5A depletion on cell proliferation and protein synthesis.- 13: Analysis of the genes encoding eIF-4A from yeast.- 14: Uncharged tRNA and derepression of the general amino acid control: autoregulation of yeast lysyl-tRNA synthetase.- Translation in the Mitochondrion.- 15: Positive control of translation in organellar genetic systems.- 16: Translation in yeast mitochondria.- 17: Yeast mitochondrial translation: nuclear genes involved in the expression of the mitochondrial genome.- Mitochondrial Import and Sorting.- 18: Early events in protein import into mitochondria.- 19: Targeting pathways to the mitochondrial inner membrane.- 20: Intra-mitochondrial sorting of precursor proteins.- 21: Genetic characterization of the intermembrane space sorting domains of yeast cytochrome b2.- 22: Mitochondrial import of cytochrome C.- Nuclear Transport.- 23: Using yeast to study exchange of macromolecules between the cytoplasm and the nucleus..- 24: Nucleocytoplasmic transport in ribosome biogenesis.- 25: Approaches towards a genetic analysis of the nuclear pore complex in yeast.- Targeting to the Endoplasmic Reticulum and Beyond.- 26: The SRP-dependent protein targeting pathway in Saccharomyces cerevisiae.- 27: Similarities between Scerevisiae Sec 61p and E. coli SecY suggest a common origin for protein translocases of the eukaryotic ER and the bactenal plasma membrane.- 28: ATP transport into yeast ER is a prerequisite for preprotein transfer across the ER membrane.- 29: Cross-linking signal sequences to components of yeast microsomes.- 30: The nucleotide cycle of SEC4 is important for its function in vesicular transport.- 31: Vacuolar protein sorting in yeast.- 32: Eukaryotic MDR1/P-glycoprotein homologues: unconventional secretion processes mediated by a growing family of ATP-dependent membrane translocators.- Intracellular Protein Folding.- 33: The role of protein disulfide isomerase in yeast.- 34: Novel chaperone-like pro-sequences allow secretion of recombinant human insulin-like growth factor-1 from yeast.- 35: mRNA translation and protein folding in vivo.- Protein Splicing and Degradation.- 36: Protein splicing of yeast TFP1: evidence for a new class of mobile genetic elements.- 37: Ubiquitin-dependent protein degradation.- 38: The TIF463A and TIF463B genes encode the large subunits of the yeast cap binding protein complex.