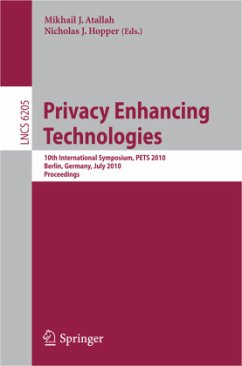 Produktdetails
Lecture Notes in Computer Science Vol.6205
Verlag: Springer, Berlin
Artikelnr. des Verlages: 80018264
Erscheinungstermin: Juli 2010
Englisch
Abmessung: 241mm x 157mm x 23mm
Gewicht: 456g
ISBN-13: 9783642145261
ISBN-10: 3642145264
Artikelnr.: 30519528
Privacy Enhancing Technologies Symposium.- How Unique Is Your Web Browser?.- On the Privacy of Web Search Based on Query Obfuscation: A Case Study of TrackMeNot.- Private Information Disclosure from Web Searches.- Collaborative, Privacy-Preserving Data Aggregation at Scale.- Privacy-Preserving Queries over Relational Databases.- Achieving Efficient Query Privacy for Location Based Services.- Making a Nymbler Nymble Using VERBS.- Anonymous Webs of Trust.- Taming Big Brother Ambitions: More Privacy for Secret Handshakes.- Preventing Active Timing Attacks in Low-Latency Anonymous Communication.- Impact of Network Topology on Anonymity and Overhead in Low-Latency Anonymity Networks.- : An Architecture for Anonymous Low-Volume Communications.- Private Web Search with Malicious Adversaries.- unFriendly: Multi-party Privacy Risks in Social Networks.- The Impact of Unlinkability on Adversarial Community Detection: Effects and Countermeasures.- How to Share Your Favourite Search Results while Preserving Privacy and Quality.