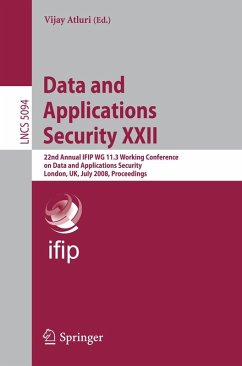 Produktdetails
Lecture Notes in Computer Science Vol.5094
Verlag: Springer, Berlin
Artikelnr. des Verlages: .12438716, 12438716
2008
Erscheinungstermin: 1. Juli 2008
Englisch
Abmessung: 243mm x 156mm x 25mm
Gewicht: 547g
ISBN-13: 9783540705666
ISBN-10: 354070566X
Artikelnr.: 24423668
Access Control.- Dynamic Meta-level Access Control in SQL.- On the Formal Analysis of a Spatio-temporal Role-Based Access Control Model.- Audit and Logging.- A Unified Audit Expression Model for Auditing SQL Queries.- A New Approach to Secure Logging.- Keynote.- Security, Functionality and Scale?.- Privacy I.- P4A: A New Privacy Model for XML.- Privacy-Aware Collaborative Access Control in Web-Based Social Networks.- A Privacy-Preserving Ticketing System.- The Analysis of Windows Vista Disk Encryption Algorithm.- Shared and Searchable Encrypted Data for Untrusted Servers.- Secure Construction of Contingency Tables from Distributed Data.- Web Services Security: Techniques and Challenges (Extended Abstract).- Empirical Analysis of Certificate Revocation Lists.- Using New Tools for Certificate Repositories Generation in MANETs.- Privacy II.- Exclusive Strategy for Generalization Algorithms in Micro-data Disclosure.- Protecting the Publishing Identity in Multiple Tuples.- Panel Session: What Are the Key Challenges in Distributed Security?.- On the Applicability of Trusted Computing in Distributed Authorization Using Web Services.- Sharing but Protecting Content Against Internal Leakage for Organisations.- Regulating Exceptions in Healthcare Using Policy Spaces.- Towards Automation of Testing High-Level Security Properties.- An Attack Graph-Based Probabilistic Security Metric.- An Opinion Model for Evaluating Malicious Activities in Pervasive Computing Systems.- DIWeDa - Detecting Intrusions in Web Databases.- Securing Workflows with XACML, RDF and BPEL.