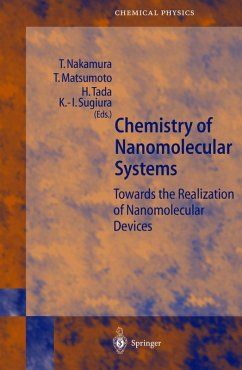 Produktdetails
Springer Series in Chemical Physics Vol.70
Verlag: Springer, Berlin
2003
Seitenzahl: 216
Erscheinungstermin: 24. Oktober 2002
Englisch
Abmessung: 241mm x 160mm x 16mm
Gewicht: 516g
ISBN-13: 9783540441359
ISBN-10: 3540441352
Artikelnr.: 11121858
I Synthetic Approaches to Nanomolecular Systems.- 1 Dynamic Redox Systems: Towards the Realization of Unimolecular Memory.- 2 Photoswitching of Intramolecular Magnetic Interaction Using Photochromic Compounds.- 3 Single-Molecule Magnets.- 4 Atomic Resolution of Porphyrins: Single-Molecule Observations of Porphyrinoid Compounds by Scanning Tunneling Microscopy.- II Surface Molecular Systems.- 5 Carboxylates Adsorbed on TiO2(110).- 6 Self-Assembled Monolayers for Molecular Nanoelectronics.- 7 Supramolecular Chemistry on Solid Surfaces.- 8 Semiconductor and Molecular-Assembly Nanowires.- 9 Control of Dye Aggregates in Microscopic Polymer Matrices.- III Theory of Nanomolecular Systems.- 10 Theoretical Calculations of Electrical Properties of Nanoscale Systems Under the Influence of Electric Fields and Currents.- 11 Nanodevices for Quantum Computing Using Photons.
"This book describes contemporary efforts to develop nano-molecular systems for future molecular electronics in which single molecules act as basic elements for electrical circuits, it also gives a comprehensive introduction and discussion on the work that is pursued worldwide." -- POLYMERNEWS