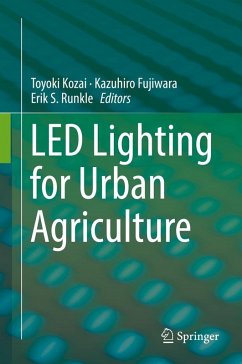 LED lighting for urban agriculture in the forthcoming decades will not be just an advanced form of current urban agriculture. It will be largely based on two fields: One is a new paradigm and rapidly advancing concepts, global technologies for LEDs, information and communication technology, renewable energy, and related expertise and their methodologies; the other is basic science and technology that should not change for the next several decades. Consideration should be given now to future urban agriculture based on those two fields.
The tremendous potentials of LED lighting for urban agriculture are stimulating many people in various fields including researchers, businesspeople, policy makers, educators, students, community developers, architects, designers, and entrepreneurs. Readers of this book will understand the principle, concept, design, operation, social roles, pros and cons, costs and benefits of LED lighting for urban agriculture, and its possibilities and challenges for solving local as well as global agricultural, environmental, and social issues.
---
Dieser Download kann aus rechtlichen Gründen nur mit Rechnungsadresse in A, B, BG, CY, CZ, D, DK, EW, E, FIN, F, GR, HR, H, IRL, I, LT, L, LR, M, NL, PL, P, R, S, SLO, SK ausgeliefert werden.
Produktdetails
Verlag: Springer-Verlag GmbH
Seitenzahl: 454
Erscheinungstermin: 8. November 2016
Englisch
ISBN-13: 9789811018480
Artikelnr.: 53148371
Part 1 Perspective and significance of LED lighting for urban agriculture.- 1. Why LED lighting for Urban Agriculture? (T. Kozai).- 2. Integrated Urban Controlled Environment Agricultural Systems IUCEAS (KC Ting, T. Ling and Paul C. Davidson, University of Illinois).- 3. Open-Source Agriculture Initiative - Food for the future? - (Caleb Harper, MIT).-Part 2 Plant growth and development as affected by light.- 4. Some aspects of the light environment (T. Kozai and G. Zhang).- 5. Light acts as a signal for regulation of growth and development (Y. Higuchi and T. Hisamatsu).- 6. Factors affecting flowering seasonality (Y. Higuchi and T. Hisamatsu).- 7. Light environment in plant factory with LED lighting (T. Akiyama and T. Kozai).- Part 3 Optical and physiological characteristics of a plant leaf and a canopy (Editor: K. Fujiwara).- 8. Optical and physiological properties of a leaf (K. Murakami and R. Matsuda).- 9. Optical and physiological properties of a plant canopy (Y. Ibaraki).- 10. Evaluation of spatial light environment and plant canopy structure (Y. Ibaraki).- 11. Lighting efficiency in plant production under artificial lighting and plant growth modeling for evaluating the lighting efficiency (Y. Ibaraki).- 12. Effects of physical environment on photosynthesis, respiration, and transpiration (R. Matsuda).- 13. Air current around single leaves and plant canopies and its effect on transpiration, photosynthesis, and plant organ temperatures (Y. Kitaya).- Appendix: Equations used in Part 3.- Part 4 Greenhouse crop production with supplemental LED lighting (Editor: E. Runkle).- 14. Control of Flowering Using Night-interruption and Day-extension LED Lighting (Q. Meng and E. Runkle.- 15. Control of morphology, quality and economic value by manipulating light quality (blue, red, and far-red light) and daily light integral (DLI) using LEDs (R. Lopez and J. Craver)).- 16. Supplemental intra-canopy lighting with LEDs for fruit vegetables (N. Lu, C. Mitchell, E.Heuvelink, and T. Dueck).- Part 5 Light quality effects on plant physiology and morphology (Editor: T. Kozai).- 17. Effect of Light Quality on Secondary Metabolite Production in Leafy Greens and Seedlings (H. Shimizu).- 18. Induction of plant disease resistance and other physiological responses by green light illumination (R. Kudou and K.Yamamoto).- 19. Light quality effects on intumescence (oedema) on leaves (K. Williams, C.T. Miller and J.K. Craver).- Part 6 Current status of commercial plant factories with LED lighting (T. Kozai).- 20.Business models for plant factories using artificial light (PFALs) in Taiwan (Wei Fang, National Taiwan University).- 21. Current status in Asia, Europe and other regions (E. Hayashi).- 22. Current status in Americas, (C Higgins).- 23. Economic analysis and market creation for PFALs (E.Hayashi).- 24. Consumer perception and understanding of vegetables produced at plant factories with artificial lighting (Y. Yano, T. Nakamura and A. Maruyama).- Part 7 Basics of LEDs and LED lighting systems for plant cultivation (Editor: K.Fujiwara).- 25. Radiometric, photometric, and photometric quantities and their units (K. Fujiwara).-26. Basics of LEDs for plant cultivation (K. Fujiwara).- 27. Measurement of photometric and radiometric characteristics of LEDs for plant cultivation (E. Goto)).- 28. Configuration, function and operation of LED lighting systems (A. Yano).- 29. Energy balance and energy conversion process of LEDs and LED lighting systems (A. Yano).- 30. Health effects of occupational exposure to LED light: A special reference to plant cultivation works in plant factories (M. Takao).- 31. Moving toward Self-Learning Closed Plant Production Systems (T. Kozai, and K. Fujiwara).