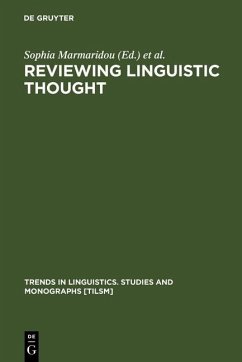 Andere Kunden interessierten sich
auch
für
The volume focuses on the interaction of different levels of linguistic analysis (syntax, semantics, pragmatics) and the interfaces between them, on the convergence of different theoretical models in explaining linguistic phenomena, and on recent interdisciplinary approaches to linguistic analysis. Its theoretical importance lies in bringing out and highlighting some of the common trends and directions found in recent theoretical frameworks which focus on themes traditionally downplayed by mainstream 20th century linguistics. It further familiarizes the reader with the methodology used in such frameworks and shows how methodology developed in different theoretical perspectives can often converge in yielding similar results.
While representing different traditions, all papers in this volume assume a necessity for the study of language to be paired with the study of cognition and for linguistics to develop more substantive links to other disciplines, thereby creating converging trends into the new century. The structure of this volume reflects this assumption along a cline of theoretical models and methodologies, starting from those that view language as part of cognition and ending with those that consider the language faculty to be distinct from general cognition. Thus the volume is divided into five parts: (I) relaxing level boundaries, (II) focusing on level interaction, (III) drawing on different theories, (IV) exploring field interaction, and (V) interdisciplinary perspectives on modularity.
The volume is of particular relevance to scholars and students who are interested in an in-depth overview of 20th century linguistics outside/beyond the generative paradigm, and in exploring the development of 20th century legacy into current work.
---
Dieser Download kann aus rechtlichen Gründen nur mit Rechnungsadresse in A, B, BG, CY, CZ, D, DK, EW, E, FIN, F, GR, HR, H, IRL, I, LT, L, LR, M, NL, PL, P, R, S, SLO, SK ausgeliefert werden.
Produktdetails
Verlag: Gruyter, Walter de GmbH
Seitenzahl: 448
Erscheinungstermin: 12. Mai 2011
Englisch
ISBN-13: 9783110920826
Artikelnr.: 44418663
Introduction: Converging trends for 21st century linguistics: A theoretical background Part I : Relaxing level boundaries Eve Sweetser Putting the "same" meaning together from different pieces Klaus-Uwe Panther and Linda L. Thornburg Motivation and convention in some speech-act constructions: A cognitive-linguistic approach Bert Cornillie Subjectivity in Spanish esperar -based constructions Part II : Focusing on level interaction Katarzyna M. Jaszczolt Prolegomena to Default Semantics Eliza Kitisand Anastasios Tsangalidis Expressivity as an option of tense-aspect in language: The case of Modern Greek imperfective past Michalis Georgiafentis Focus: The interplay of phonology, syntax, semantics and pragmatics Part III : Drawing on different theories Michiel Leezenberg Greek tragedy as impolite conversation: Towards a practice approach in linguistic theory Marina Terkourafi Pragmatic correlates of frequency of use: The case for a notion of "minimal context" Chryssoula Lascaratouand Sophia Marmaridou Metaphor in Greek pain-constructions: Cognitive and functional perspectives Svetlana Kurtes Contrastive Linguistics: A 21st century perspective Part IV : Exploring field interaction Anastasios F. Christidis The nature of language: Twentieth century approaches Nick Enfield Micro- and macro-dimensions in linguistic systems Joel Walters Bilingualism as matchmaker: Towards a marriage of sociopragmatic and psycholinguistic research Alexandra Kallia The social and psychological modalities of politeness Part V : Interdisciplinary perspectives on modularity Deirdre Wilson New dimensions for research on pragmatics and modularity Elly Ifantidou Heresay devices and metarepresentation