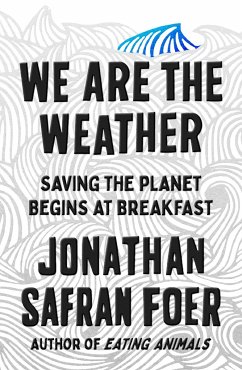 Andere Kunden interessierten sich
auch
für
We Are the Weather, Jonathan Safran Foer explores the central global dilemma of our time in a surprising, deeply personal, and urgent new way.

Some people reject the fact, overwhelmingly supported by scientists, that our planet is warming because of human activity. But do those of us who accept the reality of human-caused climate change truly believe it? If we did, surely we would be roused to act on what we know. Will future generations distinguish between those who didn't believe in the science of global warming and those who said they accepted the science but failed to change their lives in response?

The task of saving the planet will involve a great reckoning with ourselves-with our all-too-human reluctance to sacrifice immediate comfort for the sake of the future. We have, he reveals, turned our planet into a farm for growing animal products, and the consequences are catastrophic. Only collective action will save our home and way of life. And it all starts with what we eat-and don't eat-for breakfast.


Winner of the 2020 Green Prize for Sustainable Literature
Financial Times
Best Books of 2019
The Guardian
Best Food Books of 2019
Fast Company Best Climate Books of 2019
"Beautiful, powerful writing that's made me rethink the way I eat." -Samin Nosrat, author of
Salt Fat Acid Heat
"Eye-opening . . . In this follow-up to his influential
Eating Animals
, [Foer] brings both personality and passion to an issue that no one has figured out how to address in a way that inspires an adequate response." -Mark Bittman,
The New York Times Book Review
"This is a life-changing book and will alter your relationship to food for ever . . . Lucid, heartfelt, deeply compassionate . . . Sharp, hard-hitting." -Alex Preston,
The Guardian
(Observer book of the week)
"Remarkable . . . Foer is an innovative writer whose skills are deployed here most effectively in analysing what motivates people to sacrifice short-term comfort and convenience for the sake of salvation in the longer term-and what makes them believe a crisis is real at an emotional level rather than acknowledging it intellectually and carrying on regardless." -Clive Cookson,
Financial Times
"In a style rarely found in books about global catastrophe, [Foer] interweaves personal stories, bulleted factoids and a delicious serving of metaphor. The effect is dazzling." -Bruce Watson,
The Washington Post
"Foer begins his newest book as a climate-based argument for eliminating meat, eggs, and dairy from the American diet. But the novelist and author of
Eating Animals
is really too thoughtful and self-doubting to stop the conversation there . . . A vigorous and unflinching meditation on Foer's own status as a father-and a descendant of Holocaust survivors-trying to answer for his role in a man-made disaster." -Reid Singer,
Outside
"What could be misconstrued as a pedantic and mildly pejorative tome extolling the virtues of veganism is actually an investigation of our daily choices, what they say about us as individuals, and what they could say about humanity. It is not about food so much as it is about life and how to live it, which is fitting as the two are inextricably linked." -Elizabeth de Cleyre, The Millions
"
We Are the Weather
is an earnest call to action in the face of climate change, but it's not a polemic. Instead, it's a personal exploration." -Ross Scarano,
The Wall Street Journal
"An ode to collective action, persuasively asking readers to take a hard look at our own role in the climate crisis and its solutions." -Kate Wheeling,
The New Republic
"Foer masterfully uses metaphor and paradox to demonstrate both the good and the evil of which humans are capable . . . His message is poignant and painful, bleak and hopeful. He adroitly challenges readers to combat 'the greatest crisis humankind has ever faced.'" -Bill Schwab, eMissourian.com
"Foer's message is both moving and painful, depressing and optimistic, and it will force readers to rethink their commitment to combating 'the greatest crisis humankind has ever faced.'" -
Publishers Weekly
(starred review)
"Deeply contemplative and artfully creative . . . In his desire to convince others to take action, Foer raises the philosophical bar, which is, perhaps, the most effective way of fomenting sincere and long-lasting commitment to this life-threatening crisis." -Carol Haggas,
Booklist