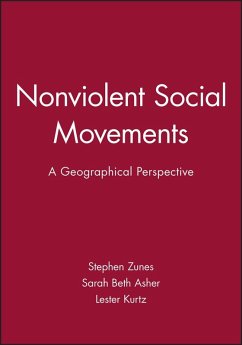 Produktdetails
Verlag: BLACKWELL PUBL
Seitenzahl: 344
Erscheinungstermin: Januar 1991
Englisch
Abmessung: 236mm x 159mm x 31mm
Gewicht: 630g
ISBN-13: 9781577180753
ISBN-10: 1577180755
Artikelnr.: 21368268
Sources and Acknowledgments.

Notes on Editors and Contributors.

Introduction.

PART I. PERSPECTIVES ON NONVIOLENT MOVEMENTS.

1. Nonviolence and Power in the Twentieth Century (Kenneth E.Boulding).

2. You Can't Kill the Spirit: Women and Nonviolent Action(Pam McAllister).

PART II. THE MIDDLE EAST.

Introduction.

3. Unarmed Resistance in the Middle East and North Africa(Stephen Zunes).

4. Nonviolent Resistance in the Occupied Territories: A CriticalReevaluation (Souad Dajani).

PART III. EUROPE.

Introduction.

5. The Grassroots Movement in Germany, 1972-1985 (MatthewLyons).

6. "We Have Bare Hands": Nonviolent Social Movements in theSoviet Bloc (Lee Smithey and Lester R. Kurtz).

PART IV. ASIA.

Introduction.

7. The Origins of People Power in the Philippines (StephenZunes).

8. Imagery in the 1992 Nonviolent Uprising in Thailand (ChaiwatSatha-Anand).

9. Violent and Nonviolent Struggle in Burma: Is a UnifiedStrategy Workable (Michael A. Beer).

PART V. AFRICA.

Introduction.

10. The Ogoni Struggle for Human Rights and a Civil Society inNigeria (Joshua Cooper).

11. The Role of Nonviolence in the Downfall of Apartheid(Stephen Zunes).

PART VI. LATIN AMERICA.

Introduction.

12. Advocating Nonviolent Direct Action In Latin America: TheAntecedents and Emergence of SERPAJ (Ronald Pagnucco and John D.McCarthy).

13. The Brazilian Church-State Crisis of 1980: EffectiveNonviolent Action in a Military Dictatorship (Daniel Zirker).

PART VII. NORTH AMERICA.

Introduction.

14. Nonviolent Social Movements in the United States: AHistorical Overview (Charles Chatfield).

Conclusion (Stephen Zunes and Lester R. Kurtz).

Index.
"At the end of the bloodiest century in human history it is vitalthat we learn how to solve problems and generate effective socialand political change non-violently. This book demonstrates thatmany brave people in diverse political situations are effectivebecause they have decided that the means are as important as theends, that one does not defeat evil with more evil, repression withrepression, violence with violence. Scholars and activists alikewill find much to ponder in this collection. I commend it toeveryone with an interest in the future of the human species."Kevin Clements, George Mason University

"This is an excellent collection of case studies knittedtogether by the editors' presentation of a sound set of theoreticalissues. Both help us understand the dynamics of nonviolent socialmovements." Paul Joseph, Tufts University

"A timely book." Pacifica Review