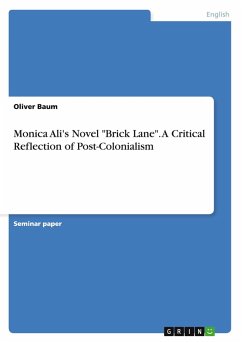 Ian Jack, the editor of the Granta Magazine said: "Monica Ali is not from Sylhet [which lies in the far north-east of the country next to the Indian state of Assam and was, until the partition of India, part of Assam and not Bengal] and nor are her novel s principal characters. Sylhettis, however, are the people her characters (though not their author) live among. I spent a week [...] in Sylhet [...]. [...] When I got back to Calcutta, I got into a
shouting match with a taxi-driver about The Satanic Verses. 'But it s only a novel,' I said.
'You know, personal, made-up, invented - fiction.' 'Exactly', he said. 'Fiction. Lies.' Brick Lane is a fine first novel, but nobody should be surprised if it raises similar arguments. In a way, they are a compliment to it an to an ambitious idea of what fiction can still do." Matthew Taylor, The Guardian, said: "Community Leaders from the neighbourhood in the East End of London that inspired Monica Ali s Booker-nominated first novel, Brick Lane,
have branded her work a 'despicable insult' to Bangladeshis living in the area. The Greater Sylhet Welfare and Development Council, which represents many of Britain s 500,000
Bangladeshis, has written an 18-page letter to the author outlining their objections to the 'shameful' way the book depicts the community. They feel the book portrays Bangladeshis in Brick Lane as backward, uneducated and unsophisticated."2
In addition, the treatment of language and time in the book is of just the same importance. It makes Ali s novel somewhat unique and different. While Brick Lane is meant to be satirical, it can be read as a drama, for in terms of living the novel focusses on the
buddhist aspect that its characters have been put on earth just to suffer.
This research paper will consist of two main parts. In the first one, I will give an exact analysis and interpretation of the novel attending to the most important aspects like characterization, the structure and ...