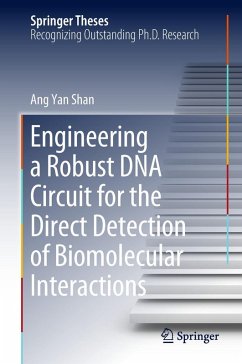 Produktdetails
Springer Theses
Artikelnr. des Verlages: 978-981-13-2187-0
1st ed. 2018
Erscheinungstermin: 10. Oktober 2018
Englisch
Abmessung: 241mm x 161mm x 22mm
Gewicht: 529g
ISBN-13: 9789811321870
ISBN-10: 9811321876
Artikelnr.: 53260716
Introduction.- Literature Review.- Materials and Methods.- Modular Framework for Engineering a Self-Contained DNA Circuit.- Designing Hybridization Chain Reaction Monomers for Robust Signal Amplification.- Design Concepts in Association Toehold for Robust Signal Transduction.- DNA Split Proximity Circuit as a General Platform for Interrogating Biomolecular Events.- DNA Split Proximity Circuit for Visualizing Cell Surface Receptor Clustering- A Case Study Using Human Epidermal Growth Factor Receptor Family.- Conclusion and Future Outlooks.