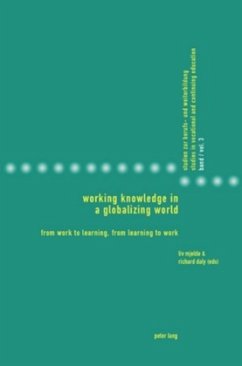 Andere Kunden interessierten sich
auch
für

The second part of this volume critically examines features of vocational education policy that are central to a number of present-day global social and economic concerns in light of changes in apprenticeship policies, information technology, structural adjustment, crises in youth culture, and shifting regional political and economic agendas. Global VET concerns are presented from national conditions of Argentina, Australia, Austria, Canada, Cuba, Denmark, Germany, Norway, South Africa, Spain, Sweden, Switzerland and the USA.
Produktdetails
Studies in Vocational and Continuing Education .3
Artikelnr. des Verlages: 10974
Neuausg.
Seitenzahl: 406
Erscheinungstermin: 25. Juli 2006
Englisch
Abmessung: 223mm x 149mm x 25mm
Gewicht: 590g
ISBN-13: 9783039109746
ISBN-10: 303910974X
Artikelnr.: 26631669
Contents: Vibe Aarkrog: Apprentices' Transfer of Knowledge from School to Workplace in the VET Dual System: A Study of a VET-Programme for Rescue Officers - Faizul Bhyat: From the Particularities of Practice to the Generalisation of Theory - Jeanne Gamble: What Kind of Knowledge for the Vocational Curriculum? - Garnet Grosjean: Cooperative Education: Learning to Work - Working to Learn, and Trying to Make Sense of It All - Tony Irizar/Adita Chiappy: The Concepts of 'Working Knowledge' and 'Zone of Proximal Development' as Applied to the Teaching of English as a Secondary Language - Liv Mjelde: Workshop Pedagogy in Vocational Education: Working Knowledge and the Zone of Proximal Development - Antje Barabasch: School-to-Work Transition in East Germany: Are East German Youth Prepared for the Challenges of the Risk Society - Patricia A. Carter: Slipping Away: VET Public Policy and Gender Equity for Teen Mothers - Thomas Deissinger: The Apprenticeship Crisis in Germany: The National Debate and Implications for Full-time Vocational Education and Training - Philipp Gonon: A Short History of German Vocational Pedagogy: From Idealistic Classics to 'Realistic' Research - Peter Kell: Work and Learning in the Era of Global Insecurity: Skills and Views about Community in Vocational Education and Training in Australia - Katrin Kraus: 'Work-Life Balance' Campaigns and their Contribution to Re-define the Notion of Vocational Qualification - Richard D. Lakes: Unemployed Youth and Vocational Pathways: Opportunity Structures in the New Economy - Lorenz Lassnigg: Social Organization of Knowledge in VET: Challenges for Schooling and Apprenticeship in Austria - Antony Lindgren: Adult Education, an Out-moded Concept, or What? - Martha Roldán: Information/Knowledge-based Development, Time-Space Configurations, and Engendered Work Organization: Exploring the New International Division of Labor and some Implications for Vocational Education in Argentina (1990s-2000s) - Anne Smehaugen: Educational Opportunity and Outcome in two North-South Extremes in Europe: Spain and Norway - Manfred Wahle: Conceptualizing a Modern Professional Role for German Kindergarten Teachers: Remarks on Reform Proposals to Kindergarten Teacher Education - Markus Weil: Cooperation for Learning: Examples of Continuing Vocational Education in Swiss Small and Medium-sized Enterprises (SMEs).