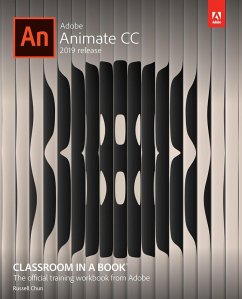 Creative professionals seeking the fastest, easiest, most comprehensive way to learn Adobe Animate choose Adobe Animate CC Classroom in a Book (2019 release) from Adobe Press. The 11 project-based step-by-step lessons in this book show users the key techniques for working in Animate. Adobe Animate CC provides more expressive tools, powerful controls for animation, and robust support for playback across a wide variety of platforms. Create interactive virtual reality immersive environments with new VR 360 and VR Panorama documents. Gain advanced control over character animations with layer parenting and AI-driven lip syncing. Learn to focus the action on different parts of the Stage with the Camera tool and create a realistic sense of space with the Layer Depth panel. Support for SVG, WebGL, HTML5, animated GIFs, and HD video, and seamless collaboration with other designers and with other Adobe applications through Creative Cloud libraries make Adobe Animate the ideal development environment for creative animation and multimedia.

The online companion files include all the necessary assets for readers to complete the projects featured in each chapter. All buyers of the book get full access to the Web Edition: A Web-based version of the complete ebook enhanced with video and multiple-choice quizzes.


---
Dieser Download kann aus rechtlichen Gründen nur mit Rechnungsadresse in A, B, BG, CY, CZ, D, DK, EW, E, FIN, F, GR, HR, H, IRL, I, LT, L, LR, M, NL, PL, P, R, S, SLO, SK ausgeliefert werden.
Es gelten unsere Allgemeinen Geschäftsbedingungen: www.buecher.de/agb
Impressum
www.buecher.de ist ein Shop der
buecher.de GmbH & Co. KG
Bürgermeister-Wegele-Str. 12,
86167 Augsburg
Amtsgericht Augsburg HRA 13309
Persönlich haftender Gesellschafter: buecher.de Verwaltungs GmbH
Amtsgericht Augsburg HRB 16890

Vertretungsberechtigte:
Günter Hilger, Geschäftsführer
Clemens Todd, Geschäftsführer

Sitz der Gesellschaft:Augsburg
Ust-IdNr. DE 204210010
---
Bitte wählen Sie Ihr Anliegen aus.