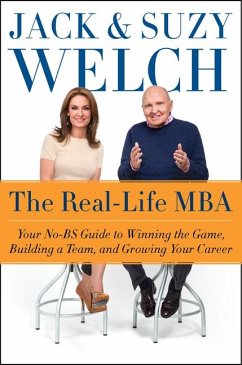 Andere Kunden interessierten sich
auch
für
Winning, to tackle the most pressing business challenges related to creating winning strategy, leading and managing others, and building your own career, in The Real Life MBA, an essential guide for every person in business today - and tomorrow.

You can talk about theories, concepts, and ideologies all you want, but when it gets right down to it, winning in business is all about mastering the gritty, inescapable, make-or-break, real-life dilemmas that define the new economy, the old economy, and everything in between. My boss is driving me nuts. I'm stuck in career purgatory. My team has lost its mojo. IT is holding us hostage. Our strategy is outdated the day we make it. We don't know what our Chinese partners are talking about. We're just not growing.

This is the real stuff of work today.

In the decade since their blockbuster international best-seller Winning was published, Jack and Suzy Welch have dug deeper into business than ever in their careers, traveling the world consulting to businesses of every size and in every industry, working closely with entrepreneurs from Mumbai to Silicon Valley, starting their own company, and owning and managing more than 40 companies through private equity. Coupled with Jack's 20 years of iconic leadership at GE and Suzy's tenure as editor of the Harvard Business Review, their new database of knowledge will infuse the pages of The Real Life MBA with fresh, relevant stories and equally powerful solutions.