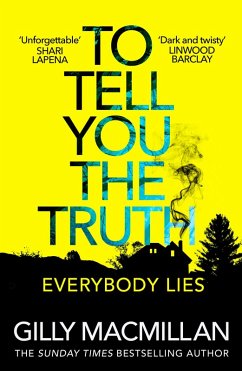 Geräte: eReader

mit Kopierschutz

Größe: 2.47MB

FamilySharing(5)
Andere Kunden interessierten sich
auch
für
CLAIRE DOUGLAS
'You're in for the twistiest of rides!'
LESLEY KARA
'Bold, suspenseful, and impossible to put down'
SAMANTHA DOWNING
'One of the most unsettling - and unforgettable - heroines I've ever met!'
SHARI LAPENA
***THE AUTHOR OF RICHARD & JUDY BOOK CLUB BESTSELLER THE NANNY RETURNS WITH A TWISTY, UNPREDICTABLE THRILLER WITH AN UNFORGETTABLE HEROINE AT ITS HEART***___________________Lucy Harper has a talent for invention...
She was nine years old when her brother vanished in the woods near home. As the only witness, Lucy's story of that night became crucial to the police investigation. Thirty years on, her brother's whereabouts are still unknown.
Now Lucy is a bestselling thriller writer. She has fame, fortune, and an army of adoring fans. But her husband, Dan, has started keeping secrets of his own. Then Dan goes missing and Lucy's past and present begin to collide...
It's time for Lucy Harper to tell us the truth.
___________________
PRAISE FOR GILLY MACMILLAN:'Pulses with tension until its shocking conclusion'
SHARI LAPENA
'White-knuckled suspense'
TESS GERRITSEN
'From the first page I wanted to know all the dark secrets this family were hiding. It's a seriously addictive read and I never knew who to trust'
AMY LLOYD, author of
THE INNOCENT WIFE
and
ONE MORE LIE
'A brilliant blend of missing person drama with some seriously spooky Gothic overtones.'
GLAMOUR MAGAZINE
'Secrets, lies, jealousy and betrayal... Elegantly structured and infused with a creeping sense of dread'
SARAH VAUGHAN
'The plot sucked me in and the insidious build had me turning the pages rapidly'
JANE SHEMILT
'The Nanny will make you doubt everyone - including yourself. Some families are built on a bedrock of lies. This one is no exception. Clever and deliciously addictive'
JANE CORRY
'I was blown away by The Nanny. Original, twisty, unpredictable and taut with its buried secrets, the old creepy house and complex relationships. I never knew who to trust and the ending shocked me.
This deserves to be huge
!' CLAIRE DOUGLAS
'A tense, assured and atmospheric thriller which will keep you guessing from page one right through to the shocking denouement. Brilliantly absorbing'
MEL McGRATH
'
Riveting'
New York Times
---
Dieser Download kann aus rechtlichen Gründen nur mit Rechnungsadresse in A, B, BG, CY, CZ, D, DK, EW, E, FIN, F, GR, HR, H, IRL, I, LT, L, LR, M, NL, PL, P, R, S, SLO, SK ausgeliefert werden.
With its buried secrets, shifting allegiances, and creeping sense of dread, The Nanny pulses with tension until its shocking conclusion. I absolutely loved it! Shari Lapena
"Riveting . . . Macmillan merrily leads us down many wrong paths, all the while examining the gap between fact and fiction and the relationship between author and subject. We cheerfully follow." - New York Times Book Review on To Tell You the Truth

"This deliciously multilayered tale provides genuine, shocking surprises that culminate in a satisfying and unexpected conclusion. Macmillan is a master of misdirection." - Publishers Weekly (starred review) on To Tell You the Truth

"An atmospheric, fast-paced read with an unreliable narrator right at its center." - Popsugar on To Tell You the Truth

"Spellbinding . . . Bold, suspenseful, and impossible to put down. This one will stay with me for a long time." - Samantha Downing, #1 internationally bestselling author of My Lovely Wife, on To Tell You the Truth

"One of the most unsettling-and unforgettable-heroines I've ever met." - Shari Lapena on To Tell You The Truth

"A dazzling thriller with a compelling and unreliable narrator, To Tell You the Truth is fresh, bold and ferociously smart ." - Christina McDonald, USA Today bestselling author of Behind Every Lie and The Night Olivia Fell

"The Nanny kept me in white-knuckled suspense until the very last page. Gilly Macmillan's breakout thriller is a dark and twisted version of "Downton Abbey" gone very, very wrong." - Tess Gerritsen, New York Times bestselling author of The Shape of Night, on The Nanny

"Fresh, bold and ferociously smart . . . To Tell You the Truth had me gripped to the end. Every twist felt fresh and unpredictable, every scene atmospheric and moody. I highly recommend this pacy and intriguing thriller." - Christina McDonald, USA Today bestselling author of Behind Every Lie and The Night Olivia Fell

"Macmillan's latest is an unsettling and atmospheric thriller that's almost impossible to put down. Told from the point of view of an unreliable narrator, it will keep you guessing right up until its satisfying but unexpected conclusion."
- Buzzfeed on To Tell You the Truth

"Macmillan expertly crafts her novel about a novelist to craft a dazzling puzzle as readers try to piece together what happened to Dan and whether or not they can trust Lucy's unreliable narrations. Readers won't be able to put down the book as Lucy grows increasingly unraveled by the events surrounding her and teeters toward disaster." - The Ridgefield Press on To Tell You the Truth