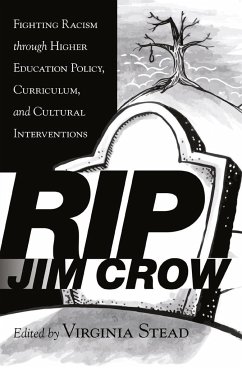 Produktdetails
Equity in Higher Education Theory, Policy, and Praxis .6
Verlag: Peter Lang, Pieterlen
Artikelnr. des Verlages: .313068, 313068
Neuausg.
Erscheinungstermin: 5. Juni 2016
Englisch
Abmessung: 223mm x 152mm x 30mm
Gewicht: 660g
ISBN-13: 9781433130687
ISBN-10: 1433130688
Artikelnr.: 43954166
Contents: Virginia Stead: Preface ... and a Call to Action - A. Leslie Anderson/Lyle Q. Foster: Disturbing the Comfortable: Antiracism as an Institutional Value in Higher Education . - Mark Christian: Who's Afraid of the Black Male Scholar? A Voice from Within the Walls of Academia. - Shiv R. Desai: Racial Profiling, Trayvon Martin, and Preservice Teachers: From Disengagement to Activism. - Four Arrows (Wahinkpe Topa), aka Dr. Don Trent Jacobs: An Indigenous Perspective: Ending "Jim Crow" Through Worldview Studies Across the Curriculum. - Ambra L. Green/Jennifer M. McKenzie/Chad A. Rose: Absence of Color: How Higher Education Preparation Programs Are Sustaining Racism. - Punita Lumb: Muslim Perspectives on Racism and Equitable Practice in Canadian Universities - Jason Mendez/Sarah Vega: "Basta Ya!" "Enough!" "Pa'lante!". A Lesson on Latinidad Struggle and Activism in the Academy - Lisa Rochelle Brown: Spiral Dynamic Theory as an Instrument for Praxis: Memetic Racism and Cultural Transfer - Melanie M. Acosta/Bridgette G. Johnson/Charisse Hudson-Vassell/Michael Hudson-Vassell/Justin Hosbey: Casualties in the Classroom: How Critical Race Theory Is Weaponized to Safeguard White Supremacy - Nicole Pulliam/Pietro Sasso/Tina R. Paone/José M. Maldonado: Reducing Systemic Racism: Movements Toward Change in Higher Education . - Jennifer L. Martin/Martina L. Sharp-Grier: Toward a Kinder and Gentler Ivory Tower - Elizabeth C. Reilly: Bridges of Accessibility: Signature Pedagogies in Graduate Education - Carla Digiorgio: Leading Negotiation: Exploring the Experiences of Aboriginal Teacher Candidates in a Canadian Faculty of Education - Thomas W. Christ: Antiracist Curriculum and Pedagogy: Teaching Critical Theory, Participatory Action Research, and Narrative Storytelling to Reduce Oppression - Tara L. Affolter: There's a Black Kid in the Classroom and I Don't Want to Piss Him Off - Martha A. Brown/Traci P. Baxley: Transforming Whiteness in Teacher Education: The Call for Anti-Racist Pedagogy - Naomi W. Nishi: Hands Up, Don't Shoot! Indicting Remedial Education - Sherry L. Deckman/Ellie Fitts Fulmer/Nia Nunn Makepeace: Dangerous Black Professor: Challenging the Ghettoization of Race in Higher Education Through Life Texts Pedagogy - Crystal Renée Chambers and MaryBeth Walpole: Dissertation Advising and the Apartheid of Scholarship in Higher Education Leadership - Michele D. Smith/Cynthia J. MacGregor: Culturally Competent Faculty for the Future: Leading Forward in Addressing Racial Bias - Mona M. Abo-Zena: "I Can't Breathe!" Learning to Respect and Respond to Subtle and Acute Distress Calls - Joely Proudfit (Luiseño)/Linda Sue Warner (Comanche): Internecine Warfare: White Privilege and American Indians in Colleges and Universities - Chris C. Martin/Jacob C. W. Billings: Evolutionary, Neuroscientific, and Social Psychological Perspectives on Antiracism and Antisexism - Cheryl Ingram: Reconstruction of Enslaved Policy, Procedures, and Practice in Institutional, Political, Academic, and Social Spaces. - Wytress Richardson/Lauren Heidbrink/Amy L. Shirley Muhammad/Tara Bryant-Edwards: Black Learning Matters: Experiences of Exclusion and Lessons for Inclusion of Students of Color in Higher Education. - Clayton R. Alford: The Resurgence of Jim Crow in Education. - Rita Fields: When Riot Is Reason: How Higher Education Can Help Eradicate Institutional Racism - Marna Hauk (Prescott)/Veronica E. Bloomfield: Blanking Out "[ ]" (Whiteness): Decolonizing Systems of Domination and Reinhabiting Ancestral Place-Cultures - Frederick W.