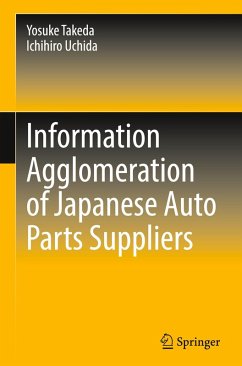 We take the Japanese auto parts suppliers for example. The production system in which highly modularized products are crafted by skilled labors and multipurpose machines was called flexible specialization instead of mass production by Piore and Sabel (1984).

However, the conventional economics of transaction costs pioneered by Ronald Coase and Oliver Williamson suggests that it is costly for dispersed organizational networks to make and sustain creational links to accumulate vast volumes of knowledge/ information. We wonder what has made information agglomeration possible for the Japanese auto parts suppliers with the flexible specialization. What has lowered the transaction costs associated with the organizational links?

We consider what causes the information agglomeration to amplify in the supply chains, constructing economic models of some hypotheses on the driving forces of information agglomeration and utilizing firm-level and establish-level micro data to empirically test these hypotheses. Finally, based on the empirical evidence on information agglomeration, we shed light on whither fast-evolving automobile manufacturing in Japan that autonomous driving technology is likely to exert traction on.