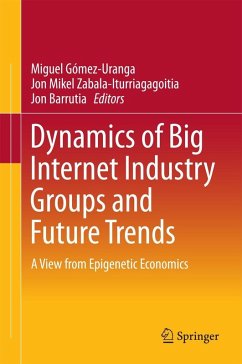 Andere Kunden interessierten sich
auch
für
This book applies a new analytical framework to the study of the evolution of large Internet companies such as Apple, Google, Microsoft, Facebook, Amazon and Samsung. It sheds light on the dynamics of business groups, which are approached as 'business ecosystems,' and introduces the concept of Epigenetic Economic Dynamics (EED), which is defined as the study of the epigenetic dynamics generated as a result of the adaptation of organizations to major changes in their respective environments. The book augments the existing literature on evolutionary economic thinking with findings from epigenetics, which are proving increasingly useful in analyzing the workings of large organizations. It also details the theoretical and conceptual nature of recent work based on evolutionary economics, mainly from the perspective of generalized Darwinism, resilience and related variety, and complements the work conducted on evolutionary economics by applying the analytical framework of EED. It makes it easier to forecast future dynamics on the Internet by proving that a sizable number of big business groups are veering from their initial paths to take unprecedented new directions as a result of competition pressure, and as such is a valuable resource for postgraduates and researchers as well as those involved in economics and innovation studies.
---
Dieser Download kann aus rechtlichen Gründen nur mit Rechnungsadresse in A, B, BG, CY, CZ, D, DK, EW, E, FIN, F, GB, GR, HR, H, IRL, I, LT, L, LR, M, NL, PL, P, R, S, SLO, SK ausgeliefert werden.
Produktdetails
Verlag: Springer-Verlag GmbH
Erscheinungstermin: 31.03.2016
Englisch
ISBN-13: 9783319311470
Artikelnr.: 44903154
Introduction.- Introducing an epigenetic approach for the study of Internet industry groups.- Epigenetic economics dynamics in the Internet ecosystem.- GAFAnomy (Google, Amazon, Facebook and Apple): The Big Four and the b-ecosystem.- The digital ecosystem: an "inherit" disruption for developers? .- Dynamics of Big Internet Industry Groups and Future Trends: A View from Epigenetic Economics. Future paths of evolution in the digital ecosystem.- 4G technology: the role of telecom carriers.- Scope and limitations of the epigenetic analogy: Application to the digital world.