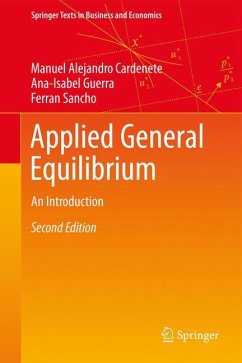 Andere Kunden interessierten sich
auch
für


Applied general equilibrium goes one step further in modeling, since it entails the integration of microeconomic theory, data handling and computing. This integration is essential for successful empirical modeling, but also involves various abilities that are not found in standard books. This book fills the gap, providing advanced students with the required tools, from the construction of consistent and applicable general equilibrium models to the interpretation of the results that ensue from the adoption of policies. This second edition expands the range of topics covered, including: indispensable general equilibrium theory, step-by-step model design, incremental model extensions, a wealth of sample computer code, procedures for constructing economic databases, database adjustments and database updating algorithms, numerical model calibration, policy strategies and their trade-offs and welfare effects, and a discussion of empirical policy examples.


Produktdetails
Springer Texts in Business and Economics
Artikelnr. des Verlages: 978-3-662-54892-9
2. Aufl.
Seitenzahl: 192
Erscheinungstermin: 14. August 2017
Englisch
Abmessung: 241mm x 160mm x 16mm
Gewicht: 399g
ISBN-13: 9783662548929
ISBN-10: 3662548925
Artikelnr.: 48009371
Introduction.- An Overview of General Equilibrium Theory.- A Simple General Equilibrium Model.- A General Equilibrium Model with a Government Sector.- Further Extensions of the Model: External Sector, Labor Market, Consumption Technology and Welfare Evaluation.- Data Base and Model Calibration.- Real-World Examples of Applied General Equilibrium Analysis.