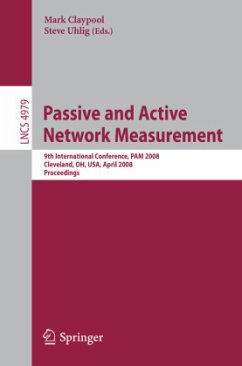 Produktdetails
Computer Communication Networks and Telecommunications
Verlag: Springer, Berlin
Seitenzahl: 236
Englisch
Abmessung: 235mm x 155mm x 13mm
Gewicht: 385g
ISBN-13: 9783540792314
ISBN-10: 3540792317
Artikelnr.: 23602657
Addressing and Topology.- The Flattening Internet Topology: Natural Evolution, Unsightly Barnacles or Contrived Collapse?.- Assessing the Geographic Resolution of Exhaustive Tabulation for Geolocating Internet Hosts.- Observations of IPv6 Addresses.- Applications.- The New Web: Characterizing AJAX Traffic.- Measurement and Estimation of Network QoS Among Peer Xbox 360 Game Players.- Evaluation of VoIP Quality over WiBro.- Classification and Sampling.- Packet Sampling for Flow Accounting: Challenges and Limitations.- On the Validation of Traffic Classification Algorithms.- Evaluation of Header Field Entropy for Hash-Based Packet Selection.- Measurement Systems and Frameworks.- A Reactive Measurement Framework.- Towards a High Quality Path-Oriented Network Measurement and Storage System.- On Community-Oriented Internet Measurement.- Wireless 802.11.- On the Effectiveness of Switched Beam Antennas in Indoor Environments.- On the Fidelity of 802.11 Packet Traces.- Refocusing in 802.11 Wireless Measurement.- Tools.- Pathdiag: Automated TCP Diagnosis.- SCUBA: Focus and Context for Real-Time Mesh Network Health Diagnosis.- IMR-Pathload: Robust Available Bandwidth Estimation Under End-Host Interrupt Delay.- Characterization and Trends.- A Measurement Study of Internet Delay Asymmetry.- Trends and Differences in Connection-Behavior within Classes of Internet Backbone Traffic.- The Cubicle vs. The Coffee Shop: Behavioral Modes in Enterprise End-Users.- Malware and Anomalies.- A Two-Layered Anomaly Detection Technique Based on Multi-modal Flow Behavior Models.- Malware in IEEE 802.11 Wireless Networks.