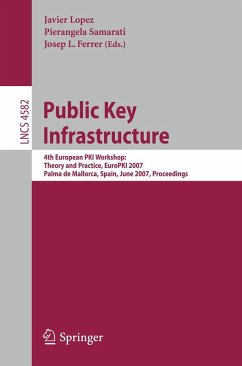 Produktdetails
Lecture Notes in Computer Science Vol.4582
Verlag: Springer, Berlin
Artikelnr. des Verlages: 12085347
2007
Seitenzahl: 392
Erscheinungstermin: 21. Juni 2007
Englisch
Abmessung: 235mm x 155mm x 21mm
Gewicht: 591g
ISBN-13: 9783540734079
ISBN-10: 3540734074
Artikelnr.: 22956050
Authorization Architectures for Privacy-Respecting Surveillance.- Privacy-Preserving Revocation Checking with Modified CRLs.- E-Passports as a Means Towards the First World-Wide Public Key Infrastructure.- An Interdomain PKI Model Based on Trust Lists.- One-More Extension of Paillier Inversion Problem and Concurrent Secure Identification.- An Efficient Signcryption Scheme with Key Privacy.- Direct Chosen-Ciphertext Secure Hierarchical ID-Based Encryption Schemes.- Certificate-Based Signature: Security Model and Efficient Construction.- Time Capsule Signature: Efficient and Provably Secure Constructions.- A New Variant for an Attack Against RSA Signature Verification Using Parameter Field.- AutoPKI: A PKI Resources Discovery System.- Bootstrapping a Global SSO from Network Access Control Mechanisms.- Anonymous k-Show Credentials.- On Partial Anonymity in Secret Sharing.- Anonymous Identification and Designated-Verifiers Signatures from Insecure Batch Verification.- OpenHSM: An Open Key Life Cycle Protocol for Public Key Infrastructure's Hardware Security Modules.- Two Worlds, One Smart Card: An Integrated Solution for Physical Access and Logical Security Using PKI on a Single Smart Card.- On the Robustness of Applications Based on the SSL and TLS Security Protocols.- Using WebDAV for Improved Certificate Revocation and Publication.- Reducing the Computational Cost of Certification Path Validation in Mobile Payment.- Security-by-Contract: Toward a Semantics for Digital Signatures on Mobile Code.- Applicability of Public Key Infrastructures in Wireless Sensor Networks.- Spatial-Temporal Certification Framework and Extension of X.509 Attribute Certificate Framework and SAML Standard to Support Spatial-Temporal Certificates.- Electronic Payment Scheme Using Identity-Based Cryptography.- Undeniable Mobile Billing Schemes.- Universally Composable Signcryption.- Chord-PKI: Embedding a Public Key Infrastructure into the Chord Overlay Network.- Privacy Protection in Location-Based Services Through a Public-Key Privacy Homomorphism.- A Critical View on RFC 3647.