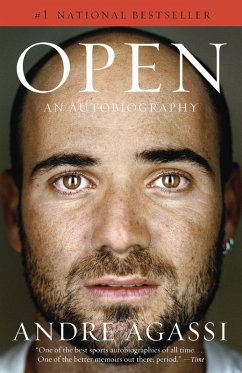 Open
An Autobiography
Broschiertes Buch
Sprache: Englisch
versandkostenfrei

innerhalb Deutschlands

Bisher EUR 12,95*

EUR 10,95

Sofort lieferbar

Alle Preise inkl. MwSt.
*Früherer Preis

-15 %
Andere Kunden interessierten sich auch für
Open
From Andre Agassi, one of the most beloved athletes in history and one of themost gifted men ever to step onto a tennis court, comes a beautiful, hauntingautobiography. With its breakneck tempo and raw candor, "Open" is a treat forboth ardent fans and those who know nothing about tennis.

Far more than a superb memoir about the highest levels of professional tennis, Open is the engrossing story of a remarkable life.

Andre Agassi had his life mapped out for him before he left the crib. Groomed to be a tennis champion by his moody and demanding father, by the age of twenty-two Agassi had won the first of his eight grand slams and achieved wealth, celebrity, and the game's highest honors. But as he reveals in this searching autobiography, off the court he was often unhappy and confused, unfulfilled by his great achievements in a sport he had come to resent. Agassi writes candidly about his early success and his uncomfortable relationship with fame, his marriage to Brooke Shields, his growing interest in philanthropy, and - described in haunting, point-by-point detail - the highs and lows of his celebrated career.
Produktinformation
---
2011
Ausstattung/Bilder: 2010. 400 S. 16 PP. B&W. 7.99 in
Seitenzahl: 385
Vintage Books
Englisch
Abmessung: 204mm x 131mm x 25mm
Gewicht: 380g
ISBN-13: 9780307388407
ISBN-10: 0307388409
Best.Nr.: 28073497
A New York Times Notable Book and a Forbes, San Francisco Chronicle, and Washington Post Best Book of the Year

"Agassi may have just penned one of the best sports autobiographies of all time. Check - it's one of the better memoirs out there, period. . . . An unvarnished, at times inspiring story [told] in an arresting, muscular style. . . . Agassi's memoir is just as entrancing as his tennis game."
- Time

"Fascinating. . . . Inspiring. . . . Open describes Agassi's personal odyssey with brio and unvarnished candor. . . . [Agassi's] career-comeback tale is inspiring but even more so is another Open storyline. It could be called: The punk grows up. . . . Countless athletes start charitable foundations, but frequently the organizations are just tax shelters or PR stunts. For Agassi helping others has instead become his life's calling. . . . Open is a superb memoir, but it hardly closes the books on an extraordinary life."
- The Wall Street Journal

"Honest in a way that such books seldom are. . . . An uncommonly well-written sports memoir. . . . Bracingly devoid of triumphalist homily, Agassi's is one of the most passionately anti-sports books ever written by a superstar athlete."
- The New York Times

"Not your typical jock-autobio fare. This literate and absorbing book is, as the title baldly states, Agassi's confessional, a wrenching chronicle of his lifelong search for identity and serenity, on and off the court."
- Los Angeles Times

"The writing here is exceptional. It is can't-put-down good."
- Sports Illustrated

"An honest, substantive, insightful autobiography. . . . The bulk of this extraordinary book vividly recounts a lost childhood, a Dickensian adolescence, and a chaotic struggle in adulthood to establish an identity. . . . While not without excitement, Agassi's comeback to No. 1 is less uplifting than his sheer survival, his emotional resilience, and his good humor in the face of the luckless cards he was often dealt."
- The Washington Post

"The most revealing, literate, and toes-stompingly honest sports autobiography in history"
- Rick Reilly, ESPN

"Much more than a drug confession - Agassi weaves a fascinating tale of professional tennis and personal adversity. . . . His tale shows that success is measured both on and off the court."
- New York Post

"Not only has Agassi bared his soul like few professional athletes ever have, he's done it with a flair and force that most professional writers can't even pull off."
- Entertainment Weekly

"[A] heartfelt memoir . . . Agassi's style is open, all right, and his book, like so many of his tennis games, is a clear winner."
- O, The Oprah Magazine

"Hard-won self-knowledge irradiates almost every page of Open . . . . Not just a first-rate sports memoir but a genuine bildungsroman, darkly funny yet also anguished and soulful. It confirms what Agassi's admirers sensed from the outset, that this showboat . . . was not clamoring for attention but rather conducting a struggle to wrest some semblance of selfhood from the sport that threatened to devour him."
- The New York Times Book Review

"A riveting and reflective memoir by a man who rose to the top of his sport - despite hating it."
- San Francisco Chronicle

"Celebrity tell-alls have rarely been this honest and this interesting."
- Baltimore Sun

"A vivid portrait of the internal battle faced in some measure by every athlete."
- Bloomberg News

"Articulate. . . . Expertly rendered."
- The Morning News (Boston)

"Refreshingly candid. . . . This lively, revealing, and entertaining book is certain to roil the tennis world and make a big splash beyond."
- Publishers Weekly

---
| | |
| --- | --- |
| | Besprechung von 13.12.2009 |
---
Hand aufs Herz

Andre Agassi stellt im "Hotel Adlon" sein sechshundertseitiges Buch "Open" vor

BERLIN. Auf dem Tennisplatz wurde Andre Agassi für seine Returns gefürchtet. Aufschlagen konnten Becker und Sampras besser, aber von Agassi kamen die Bälle in den unwahrscheinlichsten Winkeln zurück. Die Eröffnung seiner Pressesprecherin retourniert der Mann aus Las Vegas mit einem glatten Stop. Die Dame wollte ungezwungen ins Gespräch kommen, fragte ihn über sein Gepäck und seine Reisegewohnheiten aus. Agassi, irritiert: "Können wir endlich mit den Fragen zum Buch anfangen?"

Fragen haben die Journalisten viele, die meisten gleichen sich wie ein Ball dem anderen. Warum dieses Buch? Die Drogengeständnisse? Woher der Mut? Wie mit der Kritik von Becker, Nadal, Federer und anderen umgehen? Agassi fühlt sich missverstanden: Nicht um eine Abrechnung mit dem Sport, mit ehemaligen Konkurrenten oder mit seinem Vater, der ihn zum Profitennis verdonnert hat, sei es ihm zu tun, sondern um die Wahrheit des Augenblicks: "Wie war das, als ich 9, 13, 18, 25 Jahre alt gewesen bin? Was habe ich genau in diesen Momenten gedacht?"

Drei Jahre habe er …


---
| | |
| --- | --- |
| | Besprechung von 17.12.2009 |
---
Geschichten von der dunklen Seite
Der Sportbuch-Markt bietet im Jahr 2009 die ganze Palette von banal über bewegend bis bemerkenswert
Das Gros der Sportbücher ist Mist, was aber nicht ungewöhnlich ist, denn das Gros aller Bücher ist Mist. Da machen die Sportbücher keine Ausnahme, obwohl sie nur einen Bruchteil der jährlich in Deutschland zwischen 80 000 und 100 000 erscheinenden Titel ausmachen. Natürlich gibt es auch hervorragende Sportbücher, in diesem Jahr sind wieder einige erschienen. Der Markt ist dabei erstaunlich bunt, bunter noch, so scheint es, als die weite Welt des Sports.
Was genau als Sportbuch durchgeht – darüber gibt es verschiedene Meinungen. Die Deutsche Akademie für Fußballkultur (doch, die gibt es wirklich) hat zum "Fußballbuch des Jahres 2009" Péter Esterházys Roman "Keine Kunst" gekürt. Es geht in dem Buch tatsächlich auch um Fußball, aber gilt ein Roman damit als Sportbuch? So betrachtet wäre auch Richard Fords phantastischer Roman "Der Sportreporter" – auf Deutsch erstmals vor 20 Jahren erschienen – ein Sportbuch. Aber der Roman ist viel zu groß, als dass er sich mit diesem Begriff klassifizieren ließe. …


---
Perlentaucher-Notiz zur TAZ-Rezension
Letztlich enttäuscht hat Johannes Kopp diese von Pulitzerpreisträger J. R. Moehriner geschliffene Autobiografie des Tennisspielers Andre Agassi wieder zugeklappt. Zwar hat sie ihm höchst intensive Eindrücke von der Schattenseite des Leistungssports vermittelt, von der Entwicklung, wie der junge Agassi zum Sklaven des Ehrgeizes anderer geworden sei. Da es sich jedoch um eine Heldengeschichte handele und die Geschichte schon früh auf Agassis Erlösung durch die göttergleiche Steffi Graf hinsteuere, treten diese Schilderungen für Kopp bald in den Hintergrund. Außerdem findet er das Buch mit 600 Seiten zu lang und versteht auch nicht wirklich dessen zentrale Behauptung, dass Agassi Tennis eigentlich immer gehasst habe.

© Perlentaucher Medien GmbH
Andre Agassi, geboren 1970, war von 1986 bis 2006 professioneller Tennisspieler. Er stand mehrmals an der Spitze der Weltrangliste und gewann acht Grand-Slam-Turniere. Als einziger Spieler hat er den Golden Slam gewonnen, alle Grand-Slam-Titel und die olympische Goldmedaille. Darüber hinaus war er einer der besten Davis-Cup-Spieler. Als Begründer der Andre Agassi Charitable Foundation hat er bislang Spenden in Höhe von mehr als 85 Millionen US-Dollar für die Andre Agassi College Preparatory Academy gesammelt, eine Privatschule für benachteiligte Kinder in seiner Heimatstadt Las Vegas. Mit seiner Frau Stefanie Graf und den beiden Kindern Jaden und Jaz lebt er in Las Vegas.
---
THE END

I open my eyes and don't know where I am or who I am. Not all that unusual - I've spent half my life not knowing. Still, this feels different. This confusion is more frightening. More total.

I look up. I'm lying on the floor beside the bed. I remember now. I moved from the bed to the floor in the middle of the night. I do that most nights. Better for my back. Too many hours on a soft mattress causes agony. I count to three, then start the long, difficult process of standing. With a cough, a groan, I roll onto my side, then curl into the fetal position, then flip over onto my stomach. Now I wait, and wait, for the blood to start pumping.

I'm a young man, relatively speaking. Thirty-six. But I wake as if ninety-six. After three decades of sprinting, stopping on a dime, jumping high and landing hard, my body no longer feels like my body, especially in the morning. Consequently my mind doesn't feel like my mind. Upon opening my eyes I'm a stranger to myself, and while, again, this isn't new, in the mornings it's more pronounced. I run quickly through the basic facts. My name is Andre Agassi. My wife's name is Stefanie Graf. We have two children, a son and daughter, five and three. We live in Las Vegas, Nevada, but currently reside in a suite at the Four Seasons hotel in New York City, because I'm playing in the 2006 U.S. Open. My last U.S. Open. In fact my last tournament ever. I play tennis for a living, even though I hate tennis, hate it with a dark and secret passion, and always have.

As this last piece of identity falls into place, I slide to my knees and in a whisper I say: Please let this be over.

Then: I'm not ready for it to be over.

Now, from the next room, I hear Stefanie and the children. They're eating breakfast, talking, laughing. My overwhelming desire to see and touch them, plus a powerful craving for caffeine, gives me the inspiration I need to hoist myself up, to go vertical. Hate brings me to my knees, love gets me on my feet.

I glance at the bedside clock. Seven thirty. Stefanie let me sleep in. The fatigue of these final days has been severe. Apart from the physical strain, there is the exhausting torrent of emotions set loose by my pending retirement. Now, rising from the center of the fatigue comes the first wave of pain. I grab my back. It grabs me. I feel as if someone snuck in during the night and attached one of those anti-theft steering wheel locks to my spine. How can I play in the U.S. Open with the Club on my spine? Will the last match of my career be a forfeit?

I was born with spondylolisthesis, meaning a bottom vertebra that parted from the other vertebrae, struck out on its own, rebelled. (It's the main reason for my pigeon-toed walk.) With this one vertebra out of sync, there's less room for the nerves inside the column of my spine, and with the slightest movement the nerves feel that much more crowded. Throw in two herniated discs and a bone that won't stop growing in a futile effort to protect the damaged area, and those nerves start to feel downright claustrophobic. When the nerves protest their cramped quarters, when they send out distress signals, a pain runs up and down my leg that makes me suck in my breath and speak in tongues. At such moments the only relief is to lie down and wait. Sometimes, however, the moment arrives in the middle of a match. Then the only remedy is to alter my game - swing differently, run differently, do everything differently. That's when my muscles spasm. Everyone avoids change; muscles can't abide it. Told to change, my muscles join the spinal rebellion, and soon my whole body is at war with itself.

Gil, my trainer, my friend, my surrogate father, explains it this way: Your body is saying it doesn't want to do this anymore.

My body has been saying that for a long t
Kundenbewertungen zu "
Open

" von "Andre Agassi"

3 Kundenbewertungen

(Durchschnitt )
| | |
| --- | --- |
| | Schreiben Sie eine Kundenbewertung zu "Open" und Gewinnen Sie mit etwas Glück einen 15 EUR buecher.de-Gutschein |
---
Bewertung von AlLa am 02.05.2012
Ein sehr sehr gutes Buch, welches sich sehr leicht lesen lässt. Ein muss für alle Sportler, aber vor allem für alle Tennisspieler.

Diese Bewertung bezieht sich auf eine andere Ausgabe: Broschiertes Buch
---
Bewertung von bbqueen aus Calw am 23.06.2010
Dieses Buch ist ein Muss für alle Sportler, Trainer und Sportpsychologen auch für Nicht-Tennisspezialisten. Agassi zeigt sich schonungslos offen, mit unglaublicher Selbstironie. Dieses Buch lässt einen hinter die Kulisse eines erfolgreichen Sportlers blicken. Faszinierend und erschreckend zugleich ist zu lesen, was ein Mensch im Stande ist durchzuhalten. Dieses Buch ist sehr leicht und flüssig geschrieben und packt ein von der ersten bis zur letzten Seite. Schade dass die beschriebene Zeit und ihre Tennismatches schon vorbei sind. Es wäre interessant mit diesem Hintergrundwissen Agassis Tennisspiele von einer anderen Seite zu beobachten. An alle Sportler: lest dieses Buch. Der reinste Motivationsschub.

Diese Bewertung bezieht sich auf eine andere Ausgabe: Gebundenes Buch
---
Bewertung von Bücherfreund aus Augsburg am 11.11.2009
Jeder kennt ihn als Sportler auf dem Centre Court, jeder kennt ihn als Ehemann von Steffi Graf. Doch was weiß man sonst über den weltbekannten Tennisspieler? Andre Agassi schenkt dem Leser mit seiner Autobiographie "Open" einen packenden Einblick in seine Sportler-Karriere und sein privates Leben. Er gibt sich dabei schonungslos ehrlich, oft auch selbstironisch und scheut sich nicht vor durchaus ganz persönlichen Bekenntnissen. Keine der knapp 600 Seiten erschien mir beim Lesen irgendwann langatmig.
Ein weiterer entscheidender Pluspunkt dieser Autobiographie ist, dass sie auch für alle nicht Tennis-Fans, zu denen ich mich selbst zähle, höchst spannend zu lesen ist! Hier wird nicht mit sportlichen Fachausdrücken jongliert. Hier werden packende emotionale Momente aus der Sicht des Menschen Agassi geschildert. "Open" zeichnet das facettenreiche Bild eines Sportlers von Weltrang, der durch Höhen und Tiefen schließlich zu seinem ganz persönlichen Glück gefunden hat.

Diese Bewertung bezieht sich auf eine andere Ausgabe: Gebundenes Buch
---
Sie kennen "Open" von Andre Agassi ?