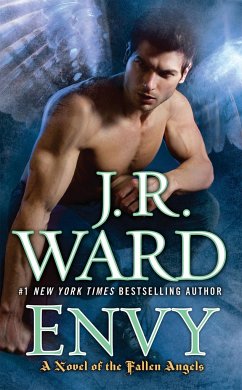 Envy: A Novel of the Fallen Angels
Broschiertes Buch
Sprache: Englisch
versandkostenfrei

innerhalb Deutschlands

EUR 7,99

Sofort lieferbar

Alle Preise inkl. MwSt.
Andere Kunden interessierten sich auch für
Envy: A Novel of the Fallen Angels
Seven deadly sins. Seven souls to save. And a man and a woman treading the lines of danger, desire and deliverance ...
As the son of a serial killer, homicide detective Thomas DelVecchio Jr grew up in the shadow of evil. Now, on the knife-edge between civic duty and blind retribution, he atones for the sins of his father. Hired to monitor Veck is Internal Affairs officer Sophia Reilly, whose interest in Veck is both professional and arousingly personal. But Veck and Sophia have a common interest. He's Jim Herron, a mysterious stranger enlisted to save the soul of a killer's latest victim, one precariously hovering between heaven and hell. Before Herron's job is done, Veck and Sophia will be inexorably drawn into a battle of good against evil, where the risk is nothing less than total damnation.
Produktinformation
---
Verlag: Penguin Us; Signet, New York
2011
New.
Ausstattung/Bilder: 2011. 464 p. 6.75 in
Seitenzahl: 480
Fallen Angels Vol.3
Altersempfehlung: ab 18 Jahre
Englisch
Abmessung: 173mm x 108mm x 37mm
Gewicht: 230g
ISBN-13: 9780451229458
ISBN-10: 0451229452
Best.Nr.: 33158935
J. R. Ward ist in den USA eine der erfolgreichsten Bestseller-Autorinnen für die Mischung aus Mystery und Romance. Nach einem Studium der Rechtwissenschaften war sie zunächst im Gesundheitswesen tätig, wo sie unter anderem die Personalabteilung einer der renommiertesten Klinken des Landes leitete. Gemeinsam mit ihrem Mann und ihrem Hund lebt J. R. Ward im Süden der USA.
Ein Marktplatz-Angebot für "Envy: A Novel of the Fallen Angels" für EUR 5,00
Zustand
Preis
Porto
Zahlung
Verkäufer
Rating
wie neu
5,00
1,20
Banküberweisung
puschelsusa
100,0%
ansehen