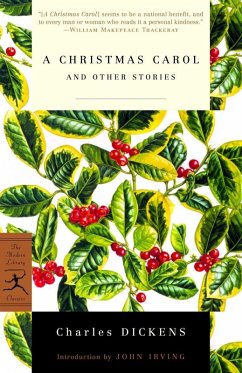 A Christmas Carol and Other Stories
Broschiertes Buch
Sprache: Englisch
versandkostenfrei

innerhalb Deutschlands

EUR 9,95

Versandfertig in über 4 Wochen

Alle Preise inkl. MwSt.
Andere Kunden interessierten sich auch für
A Christmas Carol and Other Stories
An immediate bestseller when it was first published in December 1843, A Christmas Carol has endured ever since as a perennial Yuletide favorite. Charles Dickens's beloved tale about the miserly Ebenezer Scrooge, who comes to know the meaning of kindness, charity, and goodwill through a haunting Christmas Eve encounter with four ghosts, is a heartwarming celebration of the spirit of Christmas.

This Modern Library Paperback Classics edition also includes two other popular Christmas stories by Dickens: The Chimes ,in which a man, persuaded by hypocritical cant that the poor deserve their misery, is shown what his pessimistic resignation might lead to in a vision conjured by the pealing of bells, and The Haunted Man , Dickens's last Christmas tale, which features one of his great comic families, the Tetterbys.
Produktinformation
---
Verlag: Random House Us
2001
Modern Library.
Ausstattung/Bilder: 2001. 368 S. 7.96 in
Seitenzahl: 368
Englisch
Abmessung: 203mm x 133mm x 20mm
Gewicht: 278g
ISBN-13: 9780375758881
ISBN-10: 0375758887
Best.Nr.: 13038655
"A Christmas Carol] seems to be a national benefit, and to every man or woman who reads it a personal kindness."
--William Makepeace Thackeray
Charles Dickens (1812-1870), geboren in Landport bei Portsea, wuchs in Chatham bei London auf. Als er elf Jahre alt war, musste sein Vater wegen nicht eingelöster Schuldscheine ins Schuldgefängnis; seine Mutter folgte ihm mit Charles' Geschwistern dorthin. Charles, das zweitälteste Kind, musste währenddessen in einer Schuhwichsfabrik arbeiten. Erst als der Vater nach einigen Monaten entlassen wurde, besuchte Charles wieder eine Schule. Mit fünfzehn begann er in einem Rechtsanwaltsbüro als Gehilfe zu arbeiten, später wurde er Zeitungsreporter.
Seine schriftstellerische Karriere begann er mit seinen Skizzen des Londoner Alltagslebens. Anschließend entstanden in rascher Folge die ersten Romane. Dickens wurde Herausgeber der liberalen Londoner Zeitung "Daily News", reiste in die USA und nach Italien und verfasste 1848/1849 "David Copperfield", der viel autobiographisches Material enthält.
Dickens' liebevolle Schilderungen menschlicher Schwächen, sein Kosmos skurriler und schrulliger englischer "Originale" und die satirische Anprangerung sozialer Missstände machten ihn bereits zu Lebzeiten zu einem der beliebtesten Romanciers der Weltliteratur. Seine Bücher brachten ihm außerdem beträchtlichen Wohlstand ein. Seit 1860 lebte er auf seinem Landsitz Gad's Hill Place in Kent, wo er im Alter von nur 58 Jahren an einem Schlaganfall starb.
---
MARLEY was dead: to begin with. There is no doubt whatever about that. The register of his burial was signed by the clergyman, the clerk, the undertaker, and the chief mourner. Scrooge signed it: and Scrooge's name was good upon 'Change, for anything he chose to put his hand to. Old Marley was as dead as a door-nail.

Mind! I don't mean to say that I know, of my own knowledge, what there is particularly dead about a door-nail. I might have been inclined, myself, to regard a coffin-nail as the deadest piece of ironmongery in the trade. But the wisdom of our ancestors is in the simile; and my unhallowed hands shall not disturb it, or the Country's done for. You will therefore permit me to repeat, emphatically, that Marley was as dead as a door-nail.

Scrooge knew he was dead? Of course he did. How could it be otherwise? Scrooge and he were partners for I don't know how many years. Scrooge was his sole executor, his sole administrator, his sole assign, his sole residuary legatee, his sole friend and sole mourner. And even Scrooge was not so dreadfully cut up by the sad event, but that he was an excellent man of business on the very day of the funeral, and solemnised it with an undoubted bargain.

The mention of Marley's funeral brings me back to the point I started from. There is no doubt that Marley was dead. This must be distinctly understood, or nothing wonderful can come of the story I am going to relate. If we were not perfectly convinced that Hamlet's Father died before the play began, there would be nothing more remarkable in his taking a stroll at night, in an easterly wind, upon his own ramparts, than there would be in any other middle-aged gentleman rashly turning out after dark in a breezy spot--say Saint Paul's Churchyard for instance--literally to astonish his son's weak mind.

Scrooge never painted out Old Marley's name. There it stood, years afterwards, above the warehouse door: Scrooge and Marley. The firm was known as Scrooge and Marley. Sometimes people new to the business called Scrooge Scrooge, and sometimes Marley, but he answered to both names: it was all the same to him.

Oh! but he was a tight-fisted hand at the grindstone, Scrooge! a squeezing, wrenching, grasping, scraping, clutching, covetous old sinner! Hard and sharp as flint, from which no steel had ever struck out generous fire; secret, and self-contained, and solitary as an oyster. The cold within him froze his old features, nipped his pointed nose, shrivelled his cheek, stiffened his gait; made his eyes red, his thin lips blue; and spoke out shrewdly in his grating voice. A frosty rime was on his head, and on his eyebrows, and his wiry chin. He carried his own low temperature always about with him; he iced his office in the dog-days; and didn't thaw it one degree at Christmas.

External heat and cold had little influence on Scrooge. No warmth could warm, nor wintry weather chill him. No wind that blew was bitterer than he, no falling snow was more intent upon its purpose, no pelting rain less open to entreaty. Foul weather didn't know where to have him. The heaviest rain, and snow, and hail, and sleet, could boast of the advantage over him in only one respect. They often 'came down' handsomely, and Scrooge never did.

Nobody ever stopped him in the street to say, with gladsome looks, 'My dear Scrooge, how are you? when will you come to see me?' No beggars implored him to bestow a trifle, no children asked him what it was 'oclock, no man or woman ever once in all his life inquired the way to such and such a place, of Scrooge. Even the blindmen's dogs appeared to know him; and when they saw him coming on, would tug their owners into doorways and up courts; and then would wag their tails as though they said, 'no eye at all is better than an evil eye, dark master!'

But what did Scrooge care? It was the very thing he liked. To edge his way along the crowded paths of life, warning all human sympat
2 Marktplatz-Angebote für "A Christmas Carol and Other Stories" ab EUR 1,98
Zustand
Preis
Porto
Zahlung
Verkäufer
Rating
1,98
2,00
offene Rechnung (Vorkasse vorbehalten), PayPal, Kreditkarte, offene Rechnung, Banküberweisung
Antiquariat Armebooks
99,7%
ansehen
gebraucht; sehr gut
1,99
1,65
Selbstabholung und Barzahlung, PayPal, offene Rechnung, Banküberweisung, offene Rechnung (Vorkasse vorbehalten)
Buchladen an der Kyll
99,8%
ansehen