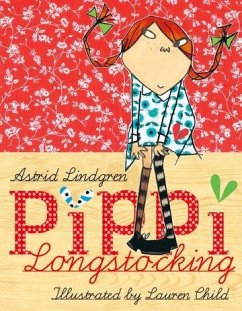 Pippi Longstocking, Gift Edition
Ill. by Lauren Child
Gebundenes Buch
Sprache: Englisch
versandkostenfrei

innerhalb Deutschlands

Sofort lieferbar

Alle Preise inkl. MwSt.
*Früherer Preis

-12 %
Andere Kunden interessierten sich auch für
Pippi Longstocking, Gift Edition
Pippi Longstocking is nine years old. She has just moved into Villa Villekulla where she lives all by herself with a horse, a monkey, and a big suitcase full of gold coins. The grown-ups in the village try to make Pippi behave in ways that they think a little girl should, but Pippi has other ideas. She would much rather spend her days arranging wild, exciting adventures to enjoy with her neighbours, Tommy and Annika, or entertaining everyone she meets with her outrageous stories.
Pippi thinks nothing of wrestling a circus strongman, dancing a polka with burglars, or tugging a bull's tail.
Generations of children have fallen in love with Pippi Longstocking. Just like Tommy and Annika, readers are instantly charmed by her warmth and sense of fun.
Astrid Lindgren's children's classic first appeared in 1945. Astrid once commented, 'I write to amuse the child within me, and can only hope that other children may have some fun that way, too.' When she was growing up, Lauren Child loved Astrid Lindgren's books. She remembers: 'I discovered Pippi when I was about eight years old and found her completely inspiring.' Known and loved as the creator of some equally feisty little girls - notably Clarice Bean and Lola - Lauren has brought her own
inimitable style to this beautifully-illustrated edition of Pippi Longstocking.
Produktinformation
---
Verlag: Oxford University Press
2007
Ausstattung/Bilder: 2007. 208 p. w. numerous col. ill.
Seitenzahl: 207
Altersempfehlung: ab 8 Jahren
Englisch
Abmessung: 256mm x 200mm x 29mm
Gewicht: 960g
ISBN-13: 9780192782403
ISBN-10: 0192782401
Best.Nr.: 22604769
"Lauren Child is so good, it's exhilarating." (The Independent)
---
'Lauren Child is so good, it's exhilarating.' The Independent 'Lauren Child's distinctive style is perfect for Pippi Longstocking, the nine-year-old girl with enormous strength and very large shoes.' Sunday Express 'should certainly be on every child's bookshelf.' Amanda Craig, The Times 'Child's an inspired choice to hook a new generation of children on Sweden's greatest literary export ... If Pippi met Voldemort she'd make mincemeat out of him and then, because she's a generous, forgiving soul, sit him down and feed him ginger snaps.' Telegraph
Astrid Lindgren, die bekannteste Kinderbuchautorin der Welt, wurde 1907 auf Näs im schwedischen Smaland geboren, wo sie im Kreis ihrer Geschwister eine überaus glückliche Kindheit verlebte. Für ihre mehr als siebzig Bilder-, Kinder- und Jugendbücher, die in über siebzig Sprachen übesetzt worden sind, wurde sie u.a. mit folgenden Preisen ausgezeichnet: Friedenspreis des Deutschen Buchhandels - Alternativer Nobelpreis - Internationaler Jugendbuchpreis - Hans-Christian-Andersen-Medaille - Große Goldmedaille der Schwedischen Akademie - Schwedischer Staatspreis für Literatur - Deutscher Jugenditeraturpreis - Prämie.