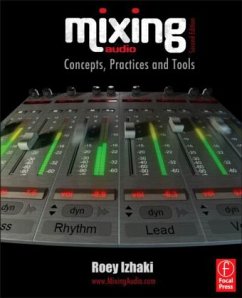 Mixing Audio
Concepts, Practices and Tools
Broschiertes Buch
Sprache: Englisch
versandkostenfrei

innerhalb Deutschlands

EUR 46,95

Sofort lieferbar

Alle Preise inkl. MwSt.
Andere Kunden interessierten sich auch für
Mixing Audio
Your mix can make or break a record, and mixing is an essential catalyst for a record deal. Professional engineers with exceptional mixing skills can earn vast amounts of money and find that they are in demand by the biggest acts.
To develop such skills, you need to master both the art and science of mixing. The new edition of this bestselling book offers all you need to know and put into practice in order to improve your mixes. Covering the entire process --from fundamental concepts to advanced techniques -- and offering a multitude of audio samples, tips and tricks, this book has it all. Roey Izhaki teaches you the importance of a mixing vision, how to craft and evaluate your mix and then take it a step further. He describes the theory and the tools used and how these are put into practice while creating mixes. Packed full of photos, graphs, diagrams and audio samples, Mixing Audio is a vital read for anyone wanting to succeed in the field of mixing.
New to this edition: Multitracks provided to help practice mixing Fully updated with current plug-in and software version and information Companion website with a multitude of new samples including more macro-mixing samples A new sample mix: Rock n' Roll
Rounded, extensive and complete coverage of music mixing Includes a Web site with over 700 audio samples and 8 sample mixes Covers new topics and mixing trends such as computer centered mixing

Produktinformation
---
Verlag: Focal Press
2011
2. Aufl.
Ausstattung/Bilder: 600 S. 246 mm
Seitenzahl: 560
Focal Press
Englisch
Abmessung: 238mm x 187mm x 32mm
Gewicht: 1245g
ISBN-13: 9780240522227
ISBN-10: 0240522222
Best.Nr.: 33253447
Roey Izhaki has been involved with mixing since 1992. He is an academic lecturer in the field of audio engineering and gives mixing seminars across Europe at various schools and exhibitions. He is currently lecturing in the Audio Engineering department at SAE Institute, London.
Introduction
Part I: Concepts and Practices
Music and mixing
Music - an extremely short introduction
The role and importance of the mix
The perfect mix
Some axioms and other gems
Louder perceived better
Percussives weight less
Importance
Natual vs. artificial
Learning to mix
What makes a great mixing engineer?
Methods of learning
Mixing analysis
Reference tracks
The process of mixing
Mixing and the production chain
The mix as a composite
Where to start?
Deadlocks
Milestones
Finalizing and stabilizing the mix
Related issues
How long does it take?
Breaks
Using solos
Mono listening
Bouncing
Housekeeping
Mix Edits
Mastering
Mixing domains and objectives
Mixing objectives
Frequency domain
Level domain
Stereo domain
Depth
Part II: Tools
Monitoring
How did we get here?
Choosing monitors
The room factor
Positioning monitors
Meters
Peak meters
Average meters
Phase meters
Mixing consoles
Processors vs. effects
Basic signal flow
Groups
In-line consoles
The monitor section
Solos
Correct gainstructure
The digital console
Software mixers
Tracks and mixer strips
Routing
The internal architecture
Phase
What is phase?
Problems
Tricks
Faders
Types
Scales
Working with faders
Panning
How stereo works?
Pan controls
Types of tracks
Panning techniques
Beyond pan pots
Equalizers
Applications
The frequency spectrum
Types and controls
In practice
Equalizing various instruments
Introduction to dynamic range processors
Dynamic Range
Dynamics
Dynamic Range Processors in a nutshell
Compressors
Principle of operation and core controls
Additional controls
Controls in practice
Applications
Tricks
More on compressors
Limiters
Gates
Controls
Applications
In practice
Tricks
Expanders
Controls
In practice
Upward Expanders
Duckers
Operation and controls
Applications
Delays
Delay basics
Types
In practice
Applications
Other modulation tools
Vibrato
ADT
Chorus
Flanging
Phasing
Tremolo
Reverbs
Applications
Types
Reverb programs
Reverb properties and parameters
Reverbs and stereo
Other reverb types
Reverbs in practice
Distortion
Distortion basics
Ways to generate distortion
Drum Triggering
Methods of drum triggering
Other tools
MS
Pitch shifters and harmonizers
Exciters and enhancers
Transient designers
Automation
The automation process
Automation alternatives
Control surfaces
Part III: Sample Mixes
Hero (rock)
The Hustler (drum n' bass)
Temps (hip hop)
Donna Pomini (dance)
Appendices
Appendix 1: Notes and frequencies
Appendix 2: Delay time chart