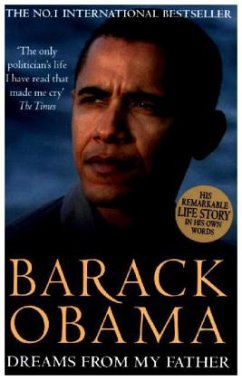 Dreams from My Father
A Story of Race and Inheritance
Broschiertes Buch
Sprache: Englisch
versandkostenfrei

innerhalb Deutschlands

EUR 12,95

Sofort lieferbar

Alle Preise inkl. MwSt.
Andere Kunden interessierten sich auch für
Dreams from My Father
The son of an African father and white American mother discusses his childhood in Hawaii, his struggle to find his identity as an African American, and his life accomplishments.

In this lyrical, unsentimental, and compelling memoir, the son of a black African father and a white American mother searches for a workable meaning to his life as a black American. It begins in New York, where Barack Obama learns that his father - a figure he knows more as a myth than as a man - has been killed in a car accident. This sudden death inspires an emotional odyssey - first to a small town in Kansas, from which he retraces the migration of his mother's family to Hawaii, and then to Kenya, where he meets the African side of his family, confronts the bitter truth of his father's life, and at last reconciles his divided inheritance.
Written at the age of thirty-three, "Dreams from My Father" is an unforgettable read. It illuminates not only Obama's journey, but also our universal desire to understand our history, and what makes us the people we are.
Produktinformation
---
Verlag: Canongate Books
2009
Ausstattung/Bilder: 2008. XVII, 442 p.
Englisch
Abmessung: 177mm x 113mm x 35mm
Gewicht: 240g
ISBN-13: 9781847673510
ISBN-10: 1847673511
Best.Nr.: 24506340
| | |
| --- | --- |
| | Besprechung von 08.01.2008 |
---
Auf der Suche
Ein sehr persönliches Buch des Präsidentschaftskandidaten Obama / Von Horst Bacia

Als er 33 Jahre alt war, hat Barack Obama ein Buch geschrieben. Es ist ein hinreißend persönliches und ausgesprochen politisches Buch geworden, aber auf erfreuliche Weise eben nicht das Buch eines Politikers. Der Autor wusste damals vermutlich noch gar nicht, dass er schon bald ein bekannter Politiker werden würde. Gerade darin liegt der Reiz dieses ersten Buches (ein zweites, eher programmatisches, The Audacity of Hope, erschien 2006.) Die erste Auflage von 1995 wurde in 20 000 Exemplaren gedruckt, von der zweiten, die 2004 herauskam, als Obama als erster farbiger Amerikaner für den Bundesstaat Illinois in den Senat gewählt wurde, sind bisher mehr als 800 000 Exemplare verkauft worden. Selbst das Buch eines Präsidentschaftsbewerbers wird aber nicht automatisch ein Bestseller. Es muss auch etwas mitzuteilen haben, das viele Menschen interessiert und berührt.

Obama erzählt die Geschichte von der Suche nach seinem Vater, dessen fremd klingenden Namen er trägt, den er aber nur einmal, als Zehnjähriger, bewusst erlebt hat. Es ist die …


---
"Provocative . . . Persuasively describes the phenomenon of belonging to two different worlds, and thus belonging to neither."
- New York Times Book Review

"Fluidly, calmly, insightfully, Obama guides us straight to the intersection of the most serious questions of identity, class, and race."
- Washington Post Book World

"Beautifully crafted . . . moving and candid . . . this book belongs on the shelf beside works like James McBride's The Color of Water and Gregory Howard Williams's Life on the Color Line as a tale of living astride America's racial categories." - Scott Turow

"Obama's writing is incisive yet forgiving. This is a book worth savoring."
- Alex Kotlowitz, author of There Are No Children Here
Barack Obama wurde 1961 in Honululu geborgen. Sein Vater ist Kenianer, seine Mutter stammt aus Kansas. Er verbrachte seine Jugend in Indonesien und auf Hawaii, studierte dann in New York Politikwissenschaft und in Chicago Jura. Seit 2002 Mitglied im Senat von Illinois. 2004 gewann er mit überwältigender Mehrheit als Vertreter seines Landes den Sitz im Bundessenat. Seither einer der beliebtesten und wirkungsvollsten Senatoren der USA. Das britische Magazin "New Statesman" kürte ihn zu einem der "10 Menschen, die die Welt verändern werden". Seit 2009 ist er der erste afroamerikanische Präsident der USA und im gleichen Jahr wurde ihm der Friedensnobelpreis verliehen.
Preface to the 2004 Edition

Almost a decade has passed since this book was first published. As I mention in the original introduction, the opportunity to write the book came while I was in law school, the result of my election as the first African-American president of the Harvard Law Review . In the wake of some modest publicity, I received an advance from a publisher and went to work with the belief that the story of my family, and my efforts to understand that story, might speak in some way to the fissures of race that have characterized the American experience, as well as the fluid state of identity -- the leaps through time, the collision of cultures -- that mark our modern life.

Like most first-time authors, I was filled with hope and despair upon the book's publication -- hope that the book might succeed beyond my youthful dreams, despair that I had failed to say anything worth saying. The reality fell somewhere in between. The reviews were mildly favorable. People actually showed up at the readings my publisher arranged. The sales were underwhelming. And, after a few months, I went on with the business of my life, certain that my career as an author would be short-lived, but glad to have survived the process with my dignity more or less intact.

I had little time for reflection over the next ten years. I ran a voter registration project in the 1992 election cycle, began a civil rights practice, and started teaching constitutional law at the University of Chicago. My wife and I bought a house, were blessed with two gorgeous, healthy, and mischievous daughters, and struggled to pay the bills. When a seat in the state legislature opened up in 1996, some friends persuaded me to run for the office, and I won. I had been warned, before taking office, that state politics lacks the glamour of its Washington counterpart; one labors largely in obscurity, mostly on topics that mean a great deal to some but that the average man or woman on the street can safely ignore (the regulation of mobile homes, say, or the tax consequences of farm equipment depreciation). Nonetheless, I found the work satisfying, mostly because the scale of state politics allows for concrete results -- an expansion of health insurance for poor children, or a reform of laws that send innocent men to death row -- within a meaningful time frame. And too, because within the capitol building of a big, industrial state, one sees every day the face of a nation in constant conversation: inner-city mothers and corn and bean farmers, immigrant day laborers alongside suburban investment bankers -- all jostling to be heard, all ready to tell their stories.

A few months ago, I won the Democratic nomination for a seat as the U.S. senator from Illinois. It was a difficult race, in a crowded field of well-funded, skilled, and prominent candidates; without organizational backing or personal wealth, a black man with a funny name, I was considered a long shot. And so, when I won a majority of the votes in the Democratic primary, winning in white areas as well as black, in the suburbs as well as Chicago, the reaction that followed echoed the response to my election to the Law Review . Mainstream commentators expressed surprise and genuine hope that my victory signaled a broader change in our racial politics. Within the black community, there was a sense of pride regarding my accomplishment, a pride mingled with frustration that fifty years after Brown v. Board of Education and forty years after the passage of the Voting Rights Act, we should still be celebrating the possibility (and only the possibility, for I have a tough general election coming up) that I might be the sole African American -- and only the third since Reconstruction -- to serve in the Senate. My family, friends, and I were mildly bewildered by the attention, and constantly aware of the gulf between the hard sheen of media reports and the messy, mundane reali
9 Marktplatz-Angebote für "Dreams from My Father" ab EUR 1,17
Zustand
Preis
Porto
Zahlung
Verkäufer
Rating
deutliche Gebrauchsspuren
1,17
2,00
Banküberweisung, PayPal
Brandenbuch
99,2%
ansehen
leichte Gebrauchsspuren
1,59
1,65
Selbstabholung und Barzahlung, Skrill/Moneybookers, PayPal, Banküberweisung
[ blautanne ] - Gebrauchtbuch
93,0%
ansehen
leichte Gebrauchsspuren
2,00
1,20
Banküberweisung
Sanny6788
100,0%
ansehen
gebraucht; gut
2,99
1,65
Selbstabholung und Barzahlung, PayPal, offene Rechnung, Banküberweisung, offene Rechnung (Vorkasse vorbehalten)
Buchladen an der Kyll
99,8%
ansehen
deutliche Gebrauchsspuren
3,99
1,20
Banküberweisung
wendy444
100,0%
ansehen
leichte Gebrauchsspuren
4,60
1,50
Banküberweisung, PayPal
Used Books Online G. O. C.
100,0%
ansehen
leichte Gebrauchsspuren
5,00
1,20
Selbstabholung und Barzahlung, Banküberweisung
Sigrid und Detlev Lukas GbR
99,9%
ansehen
leichte Gebrauchsspuren
5,50
1,45
Banküberweisung, Selbstabholung und Barzahlung
kim.p
100,0%
ansehen
wie neu
12,00
1,50
Selbstabholung und Barzahlung, PayPal, Banküberweisung
simplythebest
100,0%
ansehen
Andere Kunden kauften auch