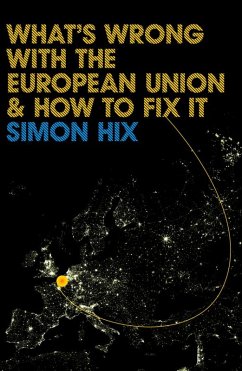 What's Wrong with the Europe Union and How to Fix it
Broschiertes Buch
Sprache: Englisch
versandkostenfrei

innerhalb Deutschlands

Sofort lieferbar

Alle Preise inkl. MwSt.
Andere Kunden interessierten sich auch für
What's Wrong with the Europe Union and How to Fix it
The European Union seems incapable of undertaking economic reforms and defining its place in the world. Public apathy towards the EU is also increasing, as citizens feel isolated from the institutions in Brussels and see no way to influence European level decisions.Taking a diagnosis and cure approach to the EU's difficulties, Simon Hix tackles these problems with distinct clarity and open-mindedness. What the EU needs, Hix contends, is more open political competition. This would promote policy innovation, foster coalitions across the institutions, provide incentives for the media to cover developments in Brussels, and enable citizens to identify who governs in the EU and to take sides in policy debates. The EU is ready for this new challenge. The institutional reforms since the 1980s have transformed the EU into a more competitive polity, and political battles and coalitions are developing inside and between the European Parliament, the Council, and the Commission.This emerging politics should be more central to the Brussels policy process, with clearer coalitions and identifiable winners and losers, at least in the short term. The risks are low because the EU has multiple checks-and-balances. Yet, the potential benefits are high, as more open politics could enable the EU to overcome policy gridlock, rebuild public support, and reduce the democratic deficit. This indispensable book will be of great interest to students of the European politics, scholars, policy makers and anyone concerned with the future of the European Union.
Produktinformation
---
Verlag: Wiley & Sons
2008
Repr. Ed.
Ausstattung/Bilder: Repr. Ed. 2011. XII, 220 p. w. figs.
PWWS - Polity Whats Wrong series
Best.Nr. des Verlages: 1A745642050
Englisch
Abmessung: 22mm x 141mm x 206mm
Gewicht: 295g
ISBN-13: 9780745642055
ISBN-10: 0745642055
Best.Nr.: 23525851
"An exciting, rigorous and compelling book. The fix of Hix makes much more sense than the Panglossians who want to do nothing or others who argue that all the EU's problems will be resolved with better PR and more procedural reforms." International Affairs "Hix's research makes a convincing case that left-right divisions have deeply penetrated policymaking in the parliament, the council and the commission. Missing is a contest for political power and policymaking between rival groups and policies, with clear winners and losers and a visible link between voting, leadership and outcome." Irish Times "[A] short and highly readable book, which began life as a series of policy papers written for the UK government." Ethics and International Affairs "Simon Hix's analysis is as authoritative as his case for reform is compelling. Reasoned, rigorous and riveting, this book is a must-read for all who care about the future of the European Union." Sir Stephen Wall "An exceptionally clear and provocative argument in favour of 'limited democratic politics' in the EU, showing precisely how it could be applied to the 2009 European elections." Michael Shackleton, Secretariat of the European Parliament "Simon Hix is among the leading political analysts of the European Union of his generation. Here he offers a critical yet balanced analysis of Europe's 'democratic deficit', linked to pragmatic proposals for reform. Whether one agrees or not, this slim and readable volume is required reading for anyone seriously concerned about the constitutional future and political legitimacy of Europe." Andrew Moravcsik, Princeton University
Simon Hix is Professor of European Union Politics and Policy, London School of Economics and Political Science.
Inhaltsangabe
- List of Abbreviations

- Preface

1. Introduction

2. Why the European Union is More Necessary than Ever

PART I: THE DIAGNOSIS

3. Policy Gridlock

4. Lack of Popular Legitimacy

5. A Democratic Deficit

PART II: THE CURE

6. The Case for 'Limited Democratic Politics' in the EU

7. How the EU is Ready for Limited Democratic Politics

8. Encouraging Democratic Politics in the EU

9. A Scenario: The 2009 European Commission President Contest

10. Conclusion and Response to Potential Critiques

- References