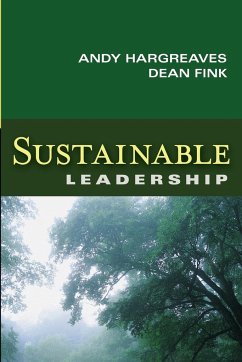 Sustainable Leadership
Broschiertes Buch
Sprache: Englisch
versandkostenfrei

innerhalb Deutschlands

Versandfertig in über 4 Wochen

Alle Preise inkl. MwSt.
Andere Kunden interessierten sich auch für
Sustainable Leadership
In "Sustainable Leadership", Andy Hargreaves and Dean Fink address one of the most important and often neglected aspects of leadership: sustainability. The authors set out a compelling and original framework of seven principles for sustainable leadership characterized by: depth of learning and real achievement rather than superficially tested performance; length of impact over the long haul, beyond individual leaders, through effectively managed succession; breadth of influence, where leadership becomes a distributed responsibility; justice in ensuring that leadership actions do no harm to and actively benefit students in other schools; diversity that replaces standardization and alignment with diversity and cohesion; resourcefulness that conserves and renews leaders' energy and doesn't burn them out; and conservation that builds on the best of the past to create an even better future.
Produktinformation
---
Verlag: JOSSEY BASS
2005
Seitenzahl: 325
Englisch
Abmessung: 229mm x 155mm x 25mm
Gewicht: 445g
ISBN-13: 9780787968380
ISBN-10: 0787968382
Best.Nr.: 21152339
"highly recommended" (Times Educational Supplement, 6th January 2006) "...a must read for educational leaders and for scholars of educational change..." (Journal of Educational Change, June 2006)
ANDY HARGREAVES is the Thomas More Brennan Chair in Education in the Lynch School of Education at Boston College. He is the author of numerous books including Learning to Change from Jossey-Bass. DEAN FINK is an independent consultant with experience in more than thirty countries. A former teacher, principal, and superintendent, he is the author or coauthor of five books on leadership and educational change.
Leseprobe zu "Sustainable Leadership" von Andy Hargreaves; Dean Fink
EPUB herunterladen
Zur Anzeige wird der
EPUBReader (Firefox PlugIn)
benötigt.
Laden Sie zunächst die Leseprobe herunter. Lokal gespeicherte EPUB-Dateien können Sie über das Firefox-Menü "Datei/Datei öffnen" öffnen oder Sie ziehen die Datei einfach auf das Firefox-Fenster.
Inhaltsangabe
Acknowledgments.
The Authors.
INTRODUCTION: Sustainability and Unsustainability
The Choices for Change.
PRINCIPLE 1: Depth
Learning and Integrity.
PRINCIPLE 2: Length
Endurance and Succession.
PRINCIPLE 3: Breadth
Distribution, Not Delegation.
PRINCIPLE 4: Justice
Others and Ourselves.
PRINCIPLE 5: Diversity
Complexity and Cohesion.
PRINCIPLE 6: Resourcefulness
Restraint and Renewal.
PRINCIPLE 7: Conservation
History and Legacy.
CONCLUSION: Sustainability in Action
A Meal, Not a Menu.
Research Sources.
Notes.
Index.