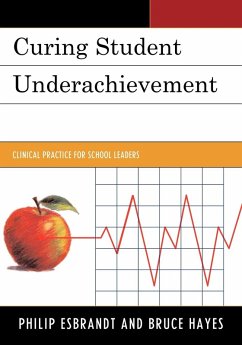 Curing Student Underachievement: Clinical Practice for School Leaders
Broschiertes Buch
Sprache: Englisch
versandkostenfrei

innerhalb Deutschlands

EUR 32,95

Versandfertig in über 4 Wochen

Alle Preise inkl. MwSt.
Andere Kunden interessierten sich auch für
Curing Student Underachievement: Clinical Practice for School Leaders
This book introduces practicing leaders and leaders-in-training to the protocols of clinical practice by taking the reader through the twelve steps of the clinical cycle with specific strategies and exercises to provide practice in the application, use, and assessment of the model.
Produktinformation
---
Gewicht: 426g
ISBN-13: 9781610485371
ISBN-10: 1610485378
Best.Nr.: 33945029
This book provides penetrating views into the workings of districts and schools. From the superintendent's cabinet level to the principal and classrooms, clinical practice in education encourages the use of a common vocabulary and problem solving practice that support performance improvement. Vital sign performance indicators (VSPI) have been developed for education and they report current performance levels that quickly generate an understanding of performance health. Clusters of related vital signs can be read to make sense of complex problems and help narrow the diagnostic options used to improve performance. New superintendents and principals will find the use of health diagnostic inventories very helpful. They assist in the discovery of organization strengths and needs; the formation of prescriptions that improve school and district performance; and they provide valuable lessons in how staff members can address persistent problems. This process forms the foundation of organizational renewal. The diagnostic process not only confirms the wisdom of leaders that know when districts and schools are not performing up to expectations, but it also provides the process and training that help educators build a body of professional knowledge of what works well and what needs further research. A note of caution should be used in reading and using this book. Consistently high performance in grades PK-12 schools is difficult and very time consuming. Trying to introduce all of the clinical practice tools and strategies presented here is almost impossible. Just like the steps in the diagnostic process that narrow the recommended courses of action to the few most effective ones, educators should pick clinical practice strategies that are most likely to lead towards desired levels of performance. With thorough preparation in graduate school, ongoing training in clinical practice while on the job, and increasing numbers of clinical practice experiences shared among colleagues, a more comprehensive use of clinical practice in education becomes feasible. -- Mark Raivetz Administrators and teachers willing to meet the challenge of improving student and school performance would be well advised to read Curing Student Underachievement. The diagnostic and prescriptive strategies presented in this book cut through the political, cultural, and social traditions of failure that limit the effectiveness of most reform efforts. The authors make clear that there are no magic answers or silver bullets. Instead, they make a compelling case that clinical practices and protocols can be used to uncover the root causes of failure and develop prescriptions that focus valuable time and energy on remedies that positively impact performance. The challenge of reversing student underachievement in the 21st century can be met through the new thinking and improved perspective offered in this book. It is time to adapt clinical practice for education in order to improve professional diagnostic and prescriptive practices focused on the specific needs of learners and teachers. The training and professional development of teachers and administrators must evolve in much the same way as it did for physicians over the last century-and-a-half to improve the skills of diagnosis, prescription, and prognosis so that the causes of district, school, and student failure can be addressed through interventions that cure the problem and help prevent further failure locally and nationally. -- Theodore Johnson Curing Student Underachievement challenges the basic assumptions about school reform and can transform efforts to improve both school and student performance. The authors have established a framework to guide school leaders and teachers in discovering the real root causes of underperformance and to identify the remedies that will improve outcomes while avoiding the 'silver bullets' that fail to deliver on promises. The clinical practice model provides analogous fundamental and systematic steps and procedures that educators can relate to the unnecessarily complex and often overlapping tasks and responsibilities of each participant in the school system. Beginning with the basic anatomy of the organization chart, the authors build a complete view of the organization systems that can be monitored like the organic systems of the human body using vital signs. Vital signs, individually and in clusters, identify the unique circumstances of underperformance that lead to the development of remedies that can succeed. The implications for leadership are significant. Clinical processes and protocols lead to new understanding of underlying performance issues, build mutual support for improvement efforts among administrators and teachers, and increase professional confidence in successful solutions while leading away from the "patent medicines" that are designed and sold to treat all failures but seem to solve none of them. -- Dr. John Yopp, Director of the Partnership Institute for Math & Science Education Reform (PIMSER), Professor, University of Kentucky, Associate Provost for Educational Partnerships
Phil Esbrandt has served in all line positions in public education from teacher through superintendent in very challenging schools and districts. He has been known as a "performance turnaround" specialist long before it became fashionable to talk about such a position. Bruce Hayes has been involved in the study and application of educational reform strategies on five continents. He has served as a teacher, coach, superintendent of schools, and graduate adjunct professor.
Chapter 1 Preface Chapter 2 Acknowledgements Chapter 3 Introduction: Clinical Practice in Education Chapter 4 Chapter One: The Clinical Practice Cycle for Performance Improvement Chapter 5 Chapter Two: Understanding the Anatomy and Physiology of Districts and Schools Chapter 6 Chapter Three: Research is Everyoneis Responsibility and It Starts with Data Chapter 7 Chapter Four: Identifying the Vital Signs of Performance Health Chapter 8 Chapter Five: Using VSPI Clusters to Determine a Course of Action Chapter 9 Chapter Six: Diagnostic Options for the District
Schools
Employees
and Students Chapter 10 Chapter Seven: Prescriptions and Prognoses: Prioritizing Solutions to Educational Chapter 11 Chapter Eight: Professional Development and Training to Increase Commitment and Chapter 12 Chapter Nine: Using Protocols and Milestones to Promote Consistency and Thoroughness Chapter 13 Chapter Ten: Monitoring and Measuring Improvement Progress through Indicators
Contraindicators
and Side-Effects Chapter 14 Chapter Eleven: Managing Performance Improvement Processes Chapter 15 Chapter Twelve: Leadership for More Effective Organizations Chapter 16 Chapter Thirteen: Leadership in the Flow of Organizational Change Chapter 17 Chapter Fourteen: Leaders as Performance Improvement Health Specialists Chapter 18 Chapter Fifteen: Development of a National Network for Performance Improvement