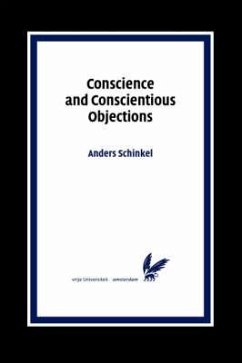 Conscience and Conscientious Objections
Broschiertes Buch
Sprache: Englisch
versandkostenfrei

innerhalb Deutschlands

Versandfertig in über 4 Wochen

Alle Preise inkl. MwSt.
Andere Kunden interessierten sich auch für
Conscience and Conscientious Objections
In Western countries conscientious objections are usually accommodated in various ways, at least in certain areas (military conscription, medicine) and to some extent. They appear to be regarded as fundamentally different from other kinds of objection. But why? Some people question the legitimacy of conscientious objection in certain contexts, or to certain matters. Thereby, they indirectly challenge the legitimacy of conscientious objection as such. The historical development of thought on conscience has exacerbated the situation. For reasons such as these, a search for a philosophical foundation of conscientious objection was called for. In this study it is argued that conscientious objections cannot be understood as long as conscience is misunderstood. Hence, part I provides a new interpretation of the historical development of expressions of conscience and thought on the subject, informed by a novel approach to conscience as a symbol. Part II is concerned with the theory and practice of freedom of conscience. In part III a new approach to conscientious objection is developed, rooted in the symbol-approach to conscience, and both informed by and in contrast with existing theories of conscientious objection.
Produktinformation
---
Verlag: AMSTERDAM UNIV PR
2007
Ausstattung/Bilder: 638 p. - 2 zwart-wit - 23.4 x 15.5 cm
Seitenzahl: 640
Englisch
Abmessung: 234mm x 156mm x 34mm
Gewicht: 885g
ISBN-13: 9789085553915
ISBN-10: 9085553911
Best.Nr.: 23421442
Dr. Anders Schinkel is a historian and philosopher. His publications span the philosophy of history, ethics, and sociology. One of the main foci of his present research lies in the field of animal ethics.
Inhaltsangabe
Preface
10 Contents
12 General Introd uction
24 About this book
24 Reality, consciousness, and language
39 The theory of symbols
50 Method
64 Part 1
74 Ch.1: The symbol of conscience
76 Introduction
76 Preliminary understanding of conscience
78 The Emergence of the symbol
81 Core elements of the symbol of conscience
107 Some imaginative symbols
114 Ch. 2: Between symbol and doctrine: the conceptualization of conscience untill the early Middle Ages
124 Introduction
124 From compactness to differentiation
126 Concluding remarks
170 Ch.3: Between symbol and doctrine: differentiation and doctrinalization
the religious conscience before and after the Reformation
172 Introduction
172 From compactness to differentiation
173 From symbol to doctrine
and back? Conscience in Renaissance and Reformation
186 Concluding remarks
203 Ch. 4: Between symbol and doctrine: the first wave of criticism
the seventeenth century
204 Introduction
204 Thomes Hobbes on Conscience, metaphor, and the abuse of language
204 John Locke
211 Influence
225 Ch. 5: Between symbol and doctrine: Conscience grounded in Nature and Reason
230 Conscience as a faculty
230 Conscience as an agent of the perfection of man and society
236 Evaluation: prospects for the new conscience
271 Some notes on the romantic conscience
276 Ch. 6: Between symbol and doctrine: the second wave of criticism
the nineteenth century
286 Preparations: from 'Nature' to 'Nurture'
286 Jeremy Bentham
293 Charles Darwin
300 Sigmund Freud
306 Concluding remarks
313 Ch. 7: Twentieth
century concepts of conscience
316 Introduction
316 Gilbert Ryle
329 Niklas Luhmann
336 Concluding remarks
344 Ch. 8: A fluid concept of conscience
346 The symbol and concept of conscience
346 Conscience as a mode of consci ousness
351 The development of conscience as an education towards openness
361 Ultimate concern
367 Conscience, luminosity, and intentionality
373 The moral quality of our own contribution to the process of reality
375 Conscience and experience
379 Part 2
382 Transition to part 2
384 Ch. 9: Conscience and freedom of conscience
390 Introduction
390 How conscience and freedom of conscience were related
390 Where conscience and freedom of conscience part
394 Ch. 10: The problem of order
400 Introduction
400 The first dimension: political order
402 The second dimension: the ordered mind
418 Concluding remarks
437 Ch. 11: Between idealism and pragmatism
438 Introduction
438 Dynamics of order: between idealism and pragmatism
439 Ch. 12: Solutions to the problem of order
460 Introduction
460 Before Luhmann
462 Luhmann and after
468 How to understand freedom of conscience
476 Concluding remarks
479 Part 3
482 Transition to part 3: Conscientious objection
484 Ch. 13: Identifying conscientious objections
490 Wheter only conscientious objection understoon and expressed as such can be identified as cosnientious objection
497 Core elements of the symbol of conscience as indicators of the conscientiousness of objections
501 Identifiers of conscientious objection, on the public level
516 Concluding remarks
530 Ch. 14: Conscie ntious objection, the state, and the law
532 Introduction
532 The critical function of conscientious objection and the contingent character of positive law
533 Conscientious objection and state power
543 Conscientious objection as a 'legal pressure valve'
545 Concluding remarks
546 Ch. 15: Two case studies
550 Introduction
550 Military conscription in the Netherlands; the last ten years
552 Conscientious Objections and gay marriage
568 Concluding remarks
587 Ch. 16: Philosophical foundations of conscientious ob