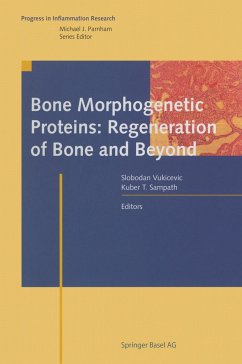 Andere Kunden interessierten sich
auch
für
---
Since the discovery of the bone morphogenetic proteins (BMPs) more than 15 years ago, there has been an unpredicted explosion of both basic scientific discoveries and clinical reports on their use from institutions all over the world. The potent effica cy of BMPs in almost all crucial developmental events as well as during regenera tion of various organs such as bone, kidney, brain, liver, heart etc. , has positioned BMPs at the center of scientific interest. Many of these aspects are covered in this new PIR volume. Their role in development, biology, signal transduction, kidney regeneration, eNS functions, craniofacial skeleton reconstruction, joint and carti lage repair, long bone non-unions and acute fractures, and spinal fusion is reviewed by experts in the field. For the first time, the role of BMPs in carcinogenesis has been reviewed to provide a rationale for applying their biology in patients with bone tumors. The optimism resulting from safe and successful treatment with BMPs for various skeletal malformations of more than 10,000 patients worldwide has opened new avenues for exploring other indications for their use. The next big challenge for bringing BMPs to the benefit ofmankind is in regenerating articular cartilage defects and rescuing patients with acute and chronic renal failure. The volume editors thank all authors for the rapid preparation of their chapters in order that the book remains up-to-date for readers with specific interest in the field of regenerative medicine. The important contribution of Mrs. Morana and Mr.
Produktdetails
Progress in Inflammation Research
Artikelnr. des Verlages: 11012931
2004
Erscheinungstermin: 20. August 2004
Englisch
Abmessung: 241mm x 160mm x 23mm
Gewicht: 870g
ISBN-13: 9783764371395
ISBN-10: 3764371390
Artikelnr.: 12982691
Bone morphogenetic proteins and their role in regenerative medicine.- Bone morphogenetic protein receptors and their nuclear effectors in bone formation.- Biology of bone morphogenetic proteins.- Bone morphogenetic proteins in development.- Bone morphogenetic proteins in articular cartilage repair.- Craniofacial reconstruction with bone morphogenetic proteins.- Clinical experience of osteogenic protein-1 (OP-1) in the repair of bone defects and fractures of long bones.- Development of the first commercially available recombinant human bone morphogenetic protein (rhBMP-2) as an autograft replacement for spinal fusion and ongoing R & D direction.- Bone morphogenetic proteins and the synovial joints.- The role of bone morphogenetic proteins in developing and adult kidney.- Bone morphogenetic proteins in the nervous system.- Bone morphogenetic proteins and cancer.- Bone healing: Bone morphogenetic proteins and beyond.