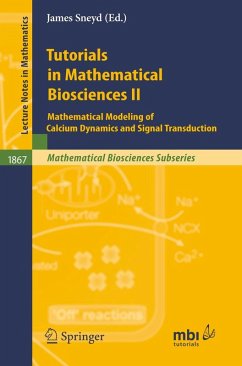 Produktdetails
Lecture Notes in Mathematics Vol.1867
Verlag: Springer, Berlin
Artikelnr. des Verlages: 11406501
2005
Erscheinungstermin: Juli 2005
Englisch
Abmessung: 238mm x 154mm x 12mm
Gewicht: 366g
ISBN-13: 9783540254393
ISBN-10: 3540254390
Artikelnr.: 14498228
Preface.- Introduction.- Basic Concept of Ca2+ Signaling in Cells and Tissues (M. J. Sanderson).- Modeling IP-3-Dependent Calcium Dynamics in Non-Excitable Cells (J. Sneyd).- Integrated Calcium Management in Cardiac Myocytes (T. R. Shannon).- Mechanisms and Models of Cardiac Excitation-Contraction Coupling (R. L. Winslow, R. Hinch, J. L. Greenstein).- Mathematical Analysis of the Generation of Force and Motion in Contracting Muscle (E. Pate).- Signal Transduction in Vertebrate Olfactory Receptor Cells (J. Reisert).- Mathematical Models of Synaptic Transmission and Short-Term Plasticity (R. Bertram).
From the reviews:

"The book is mainly a research reference book but may be of interest for graduate students specializing in the fields of cell physiology and signal transduction. The book is an excellent, up-to-date survey for those who wish to learn about the state of calcium dynamic modelling and how such models are applied to physiological questions … . Much of the underlying physiology is clearly presented to help the reader to follow the modelling." (Johnny Tom Ottesen, Mathematical Reviews, Issue 2006 h)