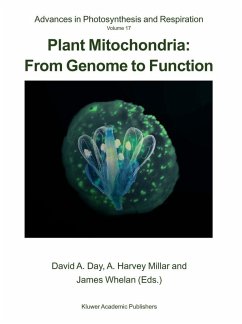 Produktdetails
Advances in Photosynthesis and Respiration Vol.17
Verlag: Springer Netherlands
2004
Seitenzahl: 356
Erscheinungstermin: 27. August 2004
Englisch
Abmessung: 254mm x 178mm x 27mm
Gewicht: 1044g
ISBN-13: 9781402023996
ISBN-10: 1402023995
Artikelnr.: 14009271
Mitochondrial Structure and Function in Plants.- Mitochondrial Morphology, Dynamics and Inheritance.- Protein Targeting and Import.- Gene Expression in Higher Plant Mitochondria.- Mitochondria-Nucleus Interactions: Evidence for Mitochondrial Retrograde Communication in Plant Cells.- Plant Mitochondrial Genome Evolution and Gene Transfer to the Nucleus.- Mitochondrial Mutations in Plants.- Proteome Analyses for Characterization of Plant Mitochondria.- Alternative Mitochondrial Electron Transport Proteins in Higher Plants.- Regulation of Electron Transport in the Respiratory Chain of Plant Mitochondria.- Plant Mitochondrial Carriers.- The Uniqueness of Tetrahydrofolate Synthesis and One-Carbon Metabolism in Plants.- Photorespiration: Photosynthesis in the Mitochondria.- Roles for Reactive Oxygen Species and Antioxidants in Plant Mitochondria.
From the reviews:

"Plant Mitochondria, meets the standard expected for a book from Springer. It is printed on coated paper and includes eight color plates. The figure quality, including the half-tone figures, is high, and the type is crisp and easy to read. ... As such, I can easily recommend ... ." (J. M. Cheeseman, Photosynthesis Research, Issue 94, 2007)