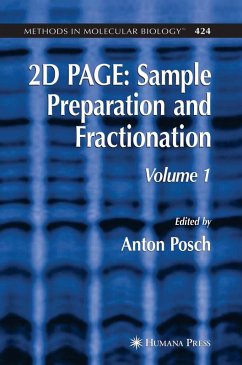 Andere Kunden interessierten sich
auch
für

Invaluable for students of Biochemistry, Biomedicine, Biology and Genomics and essential for the practicing scientists, 2D PAGE: Sample Preparation and Fractionation, Volumes 1 & 2 delve into the study of proteins with comprehensive and in depth methods and protocols to provide a greater understanding of this intricate and complicated field.
Produktdetails
Methods in Molecular Biology Vol.424
Verlag: Springer, Berlin
Artikelnr. des Verlages: 12002726
2008
Seitenzahl: 476
Erscheinungstermin: 19. März 2008
Englisch
Abmessung: 241mm x 160mm x 30mm
Gewicht: 875g
ISBN-13: 9781588297228
ISBN-10: 1588297225
Artikelnr.: 22977976
Sample Preparation and Fractionation: Volume 1 Contents Part I Sample preparation basics 1 MECHANICAL/PHYSICAL METHODS OF CELL DISRUPTION AND TISSUE HOMOGENIZATION (Stanley Goldberg, unusual chapter format!!!!) 2 Bacteria and yeast cells disruption using lytic enzymes (Oriana Salazar) 3 Sample solubilization buffers for two-dimensional electrophoresis
(Walter Weiss, unusual chapter format!!!!)
4 Quantitation of protein in samples prepared for 2-D electrophoresis
(Thomas Berkelman)
5 Removal of Interfering Substances in Samples Prepared for 2-D Electrophoresis (Thomas Berkelman)
6 Protein Concentration by Hydrophilic Interaction Chromatography combined with Solid Phase Extraction (Ulrich Schneider) Part II Protein labeling techniques 7 Difference Gel Electrophoresis Based on Lys/Cys Tagging (Reiner Westermeier)
8 Isotope-coded two-dimensional maps: tagging with deuterated acrylamide and 2- vinylpyridine (Pier Giorgio Righetti, unusual chapter format!!!!)
9 Stable Isotope Labeling by Amino acids in Cell culture (SILAC) (Albrecht Gruhler)
10 ICPL - Isotope-coded protein label (Josef Kellermann)
11 Radiolabeling for Two-Dimensional Gel Analysis (Hélian Boucherie) Part III Fractionation of proteins by chemical reagents and chromatography
12 Sequential extraction of proteins by chemical reagents (Stuart Cordwell)
13 Reducing sample complexity by RP-HPLC: beyond the tip of the protein expression iceberg (Gert van den Bergh)
14 Enriching Basic and Acidic Rat Brain Proteins with Ion Exchange Mini Spin Columns Prior To Two-Dimensional Gel Electrophoresis (Ning Liu)
15 Reducing the complexity of the Escherichia coli proteome by chromatography on reactive dye columns (Phil Cash)
16 Reducing sample complexity in Proteomics by Chromatofocusing with simple buffer mixtures (Douglas D.Frey)
17 Fractionation of Proteins by Immobilized Metal Affinity Chromatography
(Qing-Yu He)
18 Fractionation of proteins by heparin chromatography (Qing-Yu He) Part IV Fractionation of proteins by electrophoresis methods 19 Fractionation of Complex Protein Mixtures By Liquid-Phase Isoelectric Focusing (Julie Hey)
20 Microscale isoelectric focusing in solution. A Method for Comprehensive and Quantitative Proteome Analysis Using 1-D and 2-D DIGE Combined with MicroSol IEF Prefractionation. (David Speicher)
21 Prefractionation, enrichment, desalting and depleting of low volume and low abundance proteins and peptides using the MF10 (Valerie Wasinger)
22 Sample Prefractionation in Granulated Sephadex IEF Gels (Angelika Görg)
23 Free-Flow Electrophoresis System for Plasma Proteomic Applications
(Robert Wildgruber)
24 Protein fractionation by preparative electrophoresis (Michael Fountoulakis) Part V Enrichment strategies for organelles, multiprotein complexes and specific protein classes 25 Isolation of endocitic organelles by density gradient centrifugation (Lukas A. Huber)
26 Isolation of highly pure rat liver mitochondria with the aid of zone-electrophoresis in a free flow device (ZE-FFE) (Hans Zischka)
27 Isolation of Proteins and Protein Complexes by Immunoprecipitation
(Barbara Kaboord) 28 Isolation of Phosphoproteins (Lynn A. Megeney) 29 Glycoprotein Enrichment through Lectin Affinity Techniques (Milos V. Novotny) 30 Isolation of Bacterial Cell Membranes Proteins using Carbonate Extraction
(Mark Molloy)
31 Enrichment of Membrane Proteins by Partitioning in Detergent/Polymer Aqueous Two-Phase Systems (Folke Tjerneld)
32 The isolation of detergent-resistant lipid rafts for two-dimensional electrophoresis (Young-Gyu Ko)
33 Isolation of membrane protein complexes by Blue Native Electrophoresis
(Lutz A.