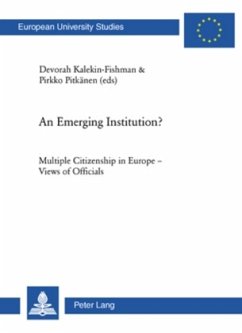 Produktdetails
Europäische Hochschulschriften / European University Studies/Publications Universitaires Européenne .41
Artikelnr. des Verlages: 11480
Neuausg.
Seitenzahl: 273
Erscheinungstermin: 6. Dezember 2007
Englisch
Abmessung: 208mm x 146mm x 20mm
Gewicht: 360g
ISBN-13: 9783039114801
ISBN-10: 3039114808
Artikelnr.: 25198268
Contents: Devorah Kalekin-Fishman/Pirkko Pitkänen: Introduction - Jussi Ronkainen/Päivi Harinen/Juhani Rautopuro/Pirkko Pitkänen: Expanding the Sphere of Citizenship: The Case of Finland - Didier Le Saout/Aissa Kadri: Public Authorities in France and Social Representations of Dual Nationality - Yvonne Schröter/Christoph Mengelkamp/Reinhold Jäger: Key Concept Multiculturalism: Survey of Elites on Dual Citizenship in Germany - Haris Athanasiadis/Costas Zafeiropoulos/Nikos Marantzidis: Opinion Survey among National Policy Makers and Authorities in Greece - Devorah Kalekin-Fishman: Uncertainties about the Meaning of Dual Citizenship among Israeli Policy Makers - Maria Ramos/Ana Teixeira: Dual Citizenship, Governance and Education: Survey among National Policy Makers and Authorities in Portugal - Elizabeth Smith/Gajendra K. Verma: Dual Citizenship in the United Kingdom: Policy Makers' Views on Political, Legal, Socio-Economic and Education Issues - Päivi Toropainen/Päivi Harinen/Juhani Rautopuro/Konstantinos Tsitselikis: Between the Old and the New: Different Perspectives on Dual Citizenship and European Citizenship.