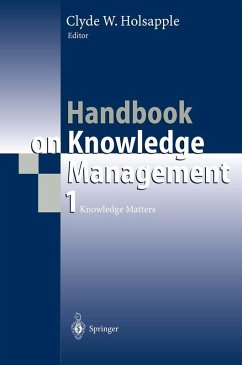 Produktdetails
Verlag: Springer, Berlin
2003
Seitenzahl: 736
Erscheinungstermin: 14. Januar 2004
Englisch
Abmessung: 235mm x 155mm x 39mm
Gewicht: 1125g
ISBN-13: 9783540200055
ISBN-10: 3540200053
Artikelnr.: 12491508
I: Foundations of Knowledge Management.- 1 The Rise of the Knowledge Organization.- 2 Knowledge Managers: Who Are They and What Do They Do?.- 3 On Knowledge Work.- 4 Knowledge Fields: Some Post-9/11 Thoughts about the Knowledge-Based Theory of the Firm.- 5 The Knowledge Economy.- 6 A Knowledge Management Ontology.- II. Knowledge: A Key Organizational Resource.- 7 Knowledge and Competence as Strategic Assets.- 8 The Intellectual Capital of Nations.- 9 Knowledge and Its Attributes.- 10 Making Knowledge Visible through Knowledge Maps: Concepts, Elements, Cases.- 11 Organizational Memory.- 12 Organizational Culture as a Knowledge Resource.- 13 Does Accounting Account for Knowledge?.- 14 Knowledge Management in Action?.- III. Knowledge Processors and Processing.- 15 Agents, Artifacts, and Transformations: The Foundations of Knowledge Flows.- 16 Organizational Knowledge Acquisition.- 17 Problem Solving: A Knowledge Management Process.- 18 Knowledge Creation.- 19 Sensemaking Processes in Knowledge Management.- 20 Creating and Facilitating Communities of Practice.- 21 Knowledge Sharing Proficiencies: The Key to Knowledge Management.- 22 Business Process as Nexus of Knowledge.- 23 The Partnership between Organizational Learning and Knowledge Management.- IV. Influences on Knowledge Processing.- 24 Valuing Knowledge Management Behaviors: Linking KM Behaviors to Strategic Performance Measures.- 25 A Framework for Security, Control and Assurance of Knowledge Management Systems.- 26 Alternative Strategies for Leveraging the Knowledge Asset: A Framework for Managerial Decision-Making.- 27 The Leaders of Knowledge Initiatives: Qualifications, Roles, and Responsibilities.- 28 The 7 C's of Knowledge Leadership: Innovating our Future.- 29 Trust and Knowledge Management: The Seeds of Success.- 30 Why Knowledge Management Systems Fail: Enablers and Constraints of Knowledge Management in Human Enterprises.- 31 Identifying and Transferring Internal Best Practices.- 32 Strategic Knowledge Managing in the Context of Networks.- Keyword Index.
"One of the most comprehensive compendiums on KM I have seen...If you are serious about your KM career and want to substantially increase your understanding of KM and ability to communicate its merits to others, to create the knowledge imperative, and the increase the likelihood of the success of your KM initiatives as part of your overall program to "create a learning organization", this content is a must." --"In Thought & Practice," The Journal of the Knowledge and Innovation Management Professional Society (KMPro)

"The first volume - Knowledge Matters - covers foundations, knowledge as a resource, knowledge processing and influences. Volume 2 - Knowledge Directions - covers technologies, outcomes, knowledge management in action and the knowledge management horizon. I thought I knew a lot about knowledge management. This book shows me that I still have a lot to learn. It's an invaluable reference." --Knowledge Digest