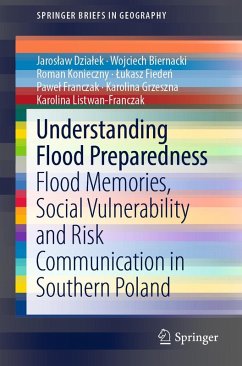 Andere Kunden interessierten sich
auch
für


The main body of the work is based on 1) surveys carried out among the flood-affected population and members of local crisis services, 2) interviews with the flood-affected population and with members of administration and services (Police, Fire Dept.) with a history of rescue missions, and 3) an analysis of social media content and of local administration and government agency websites and land-use planning documents. The primary data collected by the authors was supplemented by statistics on the impact of floods occurring in the study areas. The data is presented in tables, graphs and maps for easier comprehension.

The book is aimed at researchers and students, as well as at practitioners interested in risk perception, flood memories, social vulnerability & resilience studies, social capacity building, risk communication & education.


Produktdetails
SpringerBriefs in Geography
Artikelnr. des Verlages: 978-3-030-04593-7
1st ed. 2019
Erscheinungstermin: 17. Januar 2019
Englisch
Abmessung: 233mm x 154mm x 10mm
Gewicht: 270g
ISBN-13: 9783030045937
ISBN-10: 3030045935
Artikelnr.: 54341222
Chapter 1. Introduction.- Chapter 2. The course floods in the study areas and their consequences.- Chapter 3. Changeability of the spatial image of flood over time.- Chapter 4. Social vulnerability as a factor in flood preparedness.- Chapter 5. Online flood risk communication.- Chapter 6. Planning documents as a source of information about flood risk.- Chapter 7. Discussion and conclusions.- References.