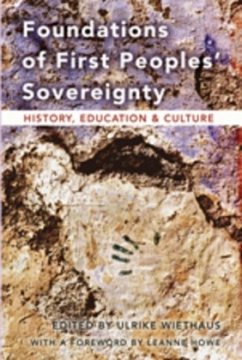 Produktdetails
Artikelnr. des Verlages: .68169, 68169
Neuausg.
Erscheinungstermin: 2. Juli 2008
Englisch
Abmessung: 228mm x 153mm x 15mm
Gewicht: 370g
ISBN-13: 9780820481692
ISBN-10: 0820481696
Artikelnr.: 27456836
Contents: LeAnne Howe: In the Place of a Foreword: Still Code Talking - Ulrike Wiethaus: Introduction - David E. Wilkins: Indigenous Self-Determination: A Global Perspective - Matthew D. Herman: "The Making of Relatives": Sovereignty and Cosmopolitan Democracies - Kauila Clark: Pondering Sovereignty for Native Hawaiians - Malinda M. Maynor: Practicing Sovereignty: Lumbee Identity, Tribal Factionalism, and Federal Recognition, 1932-1934 - E. Fred Sanders/Thomas J. Blumer: The Catawba Nation under Siege: A Troubled History of Tribal Sovereignty - Lawrence Shorty: Reclaiming Health as an Act of Self-Determination: Tobacco Addiction Resistance - David Kekaulike Sing: ' Ike Pono : Promoting Learning from a Native Hawaiian Perspective - Harry Charger/Ione V. Quigley/Ulrike Wiethaus: Foundations of Lakota Sovereignty - J. T. Garrett: "Full Circle Gathering": The Healing of a Nation - Thomas Belt/Margaret Bender: Speaking Difference to Power: The Importance of Linguistic Sovereignty - Jeanne Simonelli/Josefa Hernandez Perez/La Fomma: Pathway to Autonomy: Women's Testimony of the Chiapas Experience - Eva Marie Garroutte: Challenging Authenticity: Contemporary Artists' Contributions to American Indian Intellectual Sovereignty.
"Ulrike Wiethaus's book on tribal sovereignty fills a gap in knowledge that has been open for some time. The concept of tribal sovereignty, while theoretically alive since the first treaty signed with the Indians of Virginia in the 1520s, for a long time was in fact dormant. It took the Indian activism of the 1960s and 1970s for the Indian tribes in the U.S. to realize anew that they occupy a unique place among the Indigenous peoples of the world. They are sovereign. They have the right, guaranteed in the U.S. Constitution, the Northwest Ordinance, and elsewhere, to govern themselves on the lands that have been reserved to them. Contributors to this book expand the concept of tribal sovereignty to include people all over the world. This book is a valuable addition to the literature on Native American political issues and tribal sovereignty." (Dean Chavers, Ph.D., Director, Catching the Dream (formerly Native American Scholarship Fund), Albuquerque, New Mexico)
"A timely and broadperspective on tribal sovereignty, Ulrike Wiethaus brings together diverse, yet common themes in 'Foundations of First Peoples' Sovereignty: History, Education & Culture'. Native scholars, community activists, and artists provide insight into one of the most controversial and multifaceted issues facing Indigenous peoples today. In the age of globalization, culturally heterogeneous communities provide important examples of the continued struggles and victories in recovering from colonization, and
the right to be recognized and values respected. This book is yet another reminder of the unique contributions that First Peoples make to the betterment of us all." (Lisa J. Lefler, Ph.D., Director of Culturally Based Native Health Programs, Western Carolina University)