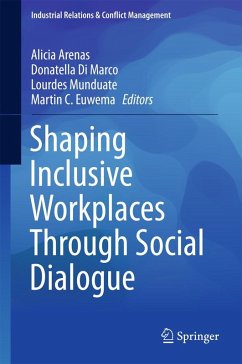 Andere Kunden interessierten sich
auch
für


The authors and editors explain effective development tools for an inclusive workplace through Social Dialogue, showing that it is possible to achieve this by integrating values, policies and practices at organizational level. The diversity of contributions from different organizational contexts, countries and cultures results in this being a valuable book for a wide range of scientists, researchers, students and human resource managers as they seek to shape inclusive workplaces through Social Dialogue.


Produktdetails
Industrial Relations & Conflict Management
Artikelnr. des Verlages: 978-3-319-66392-0
1st ed. 2017
Erscheinungstermin: November 2017
Englisch
Abmessung: 247mm x 164mm x 19mm
Gewicht: 602g
ISBN-13: 9783319663920
ISBN-10: 3319663925
Artikelnr.: 48722905
Chapter 1. General introduction (Alicia Arenas).- Chapter 2. General concepts about inclusion in organizations (John Dovidio).- Chapter 3. Showcase (Helge Hoel).- Chapter 4. Showcase (Christine Aumayr-Pintar).- Chapter 5. Inclusive recruitment and discrimination -free selection (Silvia Moscoso).- Chapter 6. Work designs that work (Fred Zijlstra).- Chapter 7. Colorful socialization and training (Francisco José Medina).- Chapter 8. Performance appraisal and compensation with fairness (Inés Martinez-Corts).- Chapter 9. A safe place for all (Ria Deakin).- Chapter 10. Developing multiple careers (Beatrice van der Heijden).- Chapter 11. Farewell is not goodbye (Vangelis Chiotis).- Chapter 12. Challenges for social dialogue to promote the circle of inclusion (Patricia Elgoibar).- Chapter 13. Circle of inclusion: from illusion to reality (Alicia Arenas).