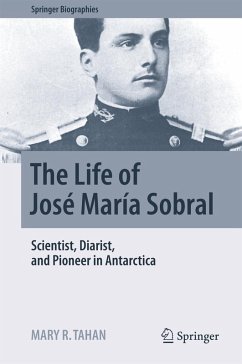 Andere Kunden interessierten sich
auch
für


This biography highlights Sobral's personal thoughts on the mission, his position, the science being discovered, and the geopolitical situation around him. The reader also learns about the state of science, Antarctic exploration, and cultural-political-issues at that time.

The author's critical and contextual analysis of the diary explains more about Sobral and his role in Argentina, Antarctica, science and history. This paints a detailed picture of Sobral as an individual, and provides the framework to depict the world in which Sobral lived and worked as well as his expedition and accomplishments. The book aims to explain the context of Sobral's writings, the significance of the events he described in his diary entries, and the way all of these events tied into history and scientific discovery.


Produktdetails
Springer Biographies
Artikelnr. des Verlages: 978-3-319-67267-0
1st ed. 2018
Erscheinungstermin: November 2017
Englisch
Abmessung: 241mm x 159mm x 25mm
Gewicht: 786g
ISBN-13: 9783319672670
ISBN-10: 3319672673
Artikelnr.: 48851386
Foreword.- Preface.- Introduction.- Editor's Note.- Background on the Expedition.- Chapter 1 The Journey to Antarctica.- The First Winter at Snow Hill.- Chapter 2 The Second Winter at Snow Hill.- Chapter 3 The Third Winter at Snow Hill.- Chapter 4 Personal Recommendations, Historical Overview and Statistical Facts.- Chapter 5 The Rescue of All Three Parties of the Expedition by the Argentine Corvette "Uruguay" and the Return of the Expedition to Buenos Aires.- Chapter 6 Transcript of the Speech Delivered by Sobral to the Argentine Naval League.- List of Figures.

---
"The book provides commentary as well as access to Sobral's diary entries as he joins the first expedition to overwinter intentionally in Antarctica and unintentionally spend two successive winters there. ... It provides a glimpse of what Antarctica was like before human activity began to change it in an accelerating way, how our understanding of Antarctic animals and weather systems began to accumulate at first, and also something of the psychological progression of a person living in close quarters in an extreme environment for a long time. ... it becomes an engrossing [read]." (Steven A. Kolmes, Environment, Science and Policy for Sustainable Development, Vol. 62 (2), 2020)
"The contrast between [the] extraordinary environmental beauty, dedicated work, hardship and interpersonal struggle make this an absorbing book which would be of great use to readers interested in the Heroic Age of Antarctic exploration and to students of the period. Sobral's diary is an expression of the indomitability of the human spirit. It encapsulates the contemporary idea of Antarctica as a crucible, putting men to the ultimate test." (Patricia Millar, Polar Research, Vol. 38, 2019)