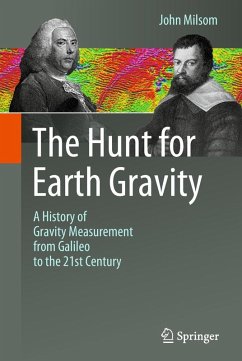 Andere Kunden interessierten sich
auch
für
little g' or just 'g') has been following in the footsteps of the pioneers, intermittently and with a variety of objectives, for more than fifty years. It is a story that begins with Galileo's early experiments with pendulums and falling bodies, progresses through the conflicts between Hooke and Newton and culminates in the measurements that are now being made from aircraft and satellites. The spectacular increases in accuracy that have been achieved during this period provide the context, but the main focus is on the people, many of whom were notable eccentrics. Also covered are the reasons WHY these people thought their measurements would be useful, with emphasis in the later chapters on the place of 'g' in today's applied geology, and on the ways in which it is providing new and spectacular visions of our planet. It is also, in part, a personal memoir that explores the parallels between the way fieldwork is being done now and the difficulties that accompanied its execution in the past. Selected topics in the mathematics of 'g' are discussed in a series of short Codas.




Produktdetails
Artikelnr. des Verlages: 978-3-319-74958-7
1st ed. 2018
Erscheinungstermin: 11. Juli 2018
Englisch
Abmessung: 244mm x 161mm x 25mm
Gewicht: 920g
ISBN-13: 9783319749587
ISBN-10: 3319749587
Artikelnr.: 50424685
Introduction.- Some Notes on Units.- I. The Beginning.- II. The Making of a Map.- III. The Astronomers.- IV. The synthesis.- V. The figure of the Earth.- VI. The Attraction of Mountains.- VII. The Pitfalls of Pendulums.- VIII. Change of a change.- IX. The rise and fall of springs.- X. The challenges of motion.- XI. A Map of the World.- XII. Epilogue.