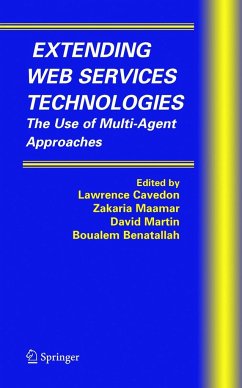 Andere Kunden interessierten sich
auch
für


The contents contain contributions by leading international researchers and professionals from both the web services and Multi-Agent Systems community. Topics include semantic web services and associated standards, architectures integrating agents and services, transactions, authorization, and service composition.
Produktdetails
Multiagent Systems, Artificial Societies, and Simulated Organizations Vol.13
Verlag: Springer, Berlin
Erscheinungstermin: 21. März 2005
Englisch
Abmessung: 243mm x 163mm x 25mm
Gewicht: 676g
ISBN-13: 9780387233437
ISBN-10: 0387233431
Artikelnr.: 13906073
Technologies for Business-Driven IT Management.- Service Oriented Computing and Software Agents.- OWL-S and Agent-Based Systems.- A Broker for OWL-S Web Services.- Agent-Based Web Services for Interoperability with the Web-Centric Enterprise.- KAoS Semantic Policy and Domain Services.- Agent-Based Support for Service Composition.- Quality-of-Service Based Grid Communities.- Enabling Flexible Interaction with Web Services.- Composing Workflows of Semantic Web Services.- Composing Web Services Using an Agent Factory.- Brokerage for Mathematical Service in Monet.- Utilizing Web Services in an Agent Based Transaction Model.- On Building Robust Service-Based Applications.
From the reviews:

"This collection of 14 contributions presents a range of issues in the overlap between Web services and software agents. ... offers a sense of the broader potential of agent technology to suggest solutions to problems of robust Web services specification and implementation. ... The volume could be useful to have in the library of an academic or industrial research group where people are working on problems of Web services orchestration ... . In summary, this is a potentially useful collection representing current work ... ." (L. Sonenberg, Computing Reviews, April, 2006)